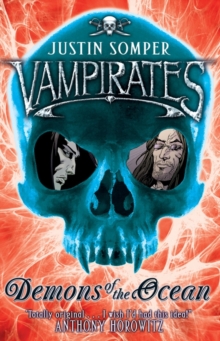 Vampirates: Demons of the Ocean
Paperback
Description
Conor and Grace are twins, recently orphaned after their widowed father's death.
Rather than being adopted by the town's busy-bodies, they decide to set sail in their father's last possession, his sailing boat.
But a vicious storm sees their boat capsize and the twins are separated.
Two mysterious ships sail to their rescue - each picking up one twin before disappearing into the mist.
Conor wakes to find himself on a pirate ship and is soon being trained up with a cutlass.
Meanwhile Grace finds herself locked in a darkened room, as the vampirates wait for night to fall and their feasting to begin...Determined to find each other, yet intrigued by their new shipmates, the twins are about to embark on the biggest adventure of their lives...
Information
Format: Paperback
Pages: 304 pages, Chapterheads
Publisher: Simon & Schuster
Publication Date: 06/06/2005
Category: Adventure
ISBN: 9780689872631
Free Home Delivery
on all orders
Pick up orders
from local bookshops
Reviews
Showing 1 - 3 of 3 reviews.
Review by Clurb
16/06/2015
Vampires. And pirates. Two genres that mash really quite surprisingly well. I'm enjoying this series and I'm not ashamed to admit it.
Review by Squeex
16/06/2015
I have just found a new-to-me favorite series and author and likely the narrator, too. I had so much fun listening to this first in the VAMPIRATES series and cannot wait to listen to the next in the series, TIDE OF TERROR, I hope it's next up on Recorded Books wishlist.This is the perfect book to listen to for anyone, even though it's supposed to be a YA paranormal. The world-building is very cool and I like that it's a future that isn't overwhelmingly bleak like a lot of futuristic venues tend to lean on. It's vampires and pirates and all that that entails....blood and fighting on the high seas and the gritty pirate pubs with wenches. There are good-hearted pirates and bad. And Daniel Philpott gives just as fab voice to the fab written characters. Nothing too over the top, just right over the top. I have the image of a vampire Captain Jack Sparrow in my cranium as I listened to some of the vampirates...and obviously this is not a bad thing if you know me at all. *grin*If you'd like to see a super interview with Justin Somper, the author, here's the site over at BittenByBooks. He's just as nifty as the books he writes. Five more please vampirates beans....
Review by ArkhamReviews
16/06/2015
Although a lot of time is spent setting the stage for future novels, not an awful lot seems to happen in this one.The half of the story set on the ordinary pirate ship isn't that bad, and actually allowed Connor to receive a fair bit of development. The characters in these chapters are far more memorable than their Vampire counterparts and I actually would have been happier if the novel purely focused on them.The Vampirate chapters seemed a lot weaker, as it takes Grace a long time to figure out the secrets of her crew (spending most of the novel confined to one room) and so these quickly become repetitive and dull.The novel feels a lot like a prologue for the rest of the series, as its ending is sudden and abrupt with no real sense of closure. I hope that this means that future novels will carry on from this and give the characters the development that they deserve.
Also in the Vampirates series | View all