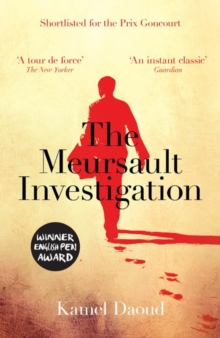 The Meursault Investigation
Paperback
Description
Shortlisted for the Prix Goncourt Winner of the Goncourt du Premier Roman Winner of the Prix des Cinq Continents Winner of the Prix Francois Mauriac THE NOVEL THAT HAS TAKEN THE INTERNATIONAL LITERARY WORLD BY STORM He was the brother of 'the Arab' killed by the infamous Meursault, the antihero of Camus's classic novel.
Angry at the world and his own unending solitude, he resolves to bring his brother out of obscurity by giving him a name - Musa - and a voice, and by describing the events that led to his senseless murder on a dazzling Algerian beach.
A worthy complement to its great predecessor, The Meursault Investigation is not only a profound meditation on Arab identity and the disastrous effects of colonialism in Algeria, but also a stunning work of literature in its own right, told in a unique and affecting voice.
Information
Format: Paperback
Pages: 160 pages
Publisher: Oneworld Publications
Publication Date: 02/07/2015
ISBN: 9781780748399
Free Home Delivery
on all orders
Pick up orders
from local bookshops
Reviews
Showing 1 - 1 of 1 reviews.
Review by RandyMetcalfe
10/11/2015
Set in the post-modern land of deconstructive textuality, a confessed liar, Harun, affirms his affinity by blood to "the Arab", the unnamed other in Camus' famous novel, <i>L'Étranger</i>, the one whom Camus' narrator, Meursault, murders in cold (or hot) blood on that sandy beach in Algiers one afternoon. Harun names the unnamed victim to be none other than Musa, his brother. Now, fifty years later, in a wine-soaked, maundering rant, Harun wants to share his story. His chosen interlocutor is an unnamed academic, a researcher exploring the broader aspects of Camus' existentialist novel. Harun describes his mother's investigation into the death of her son, the empty grave, her abandonment of Algiers with her younger son, and the years of lassitude followed by one decisive act in the middle of night on the 5th of July, 1962.Daoud's novel is brilliantly set in the shadow of Camus' novel but equally in the shadow of Algeria itself and its blood-soaked transition from French rule to, most recently, a quasi-religious state. Daoud's narrator is ambivalent in the extreme but for this one certainty — that he is the brother of the slain unnamed Arab of Camus' novel. It is a claim both definitive and absurd, as befits an inheritor of Camus' mantel. Daoud plays with the possibilities, including numerous allusions to Defoe's savage, himself re-imagined by Michel Tournier in his famous novel <i>Vendredi ou les limbes du Pacifique</i>. Indeed, there are levels of play at work here that only an adept may be able to discern. That, of course, makes Daoud's novel fascinating but also challenging; neither an easy read nor an entirely satisfying one. Nevertheless, for the sheer audacity of it I could hardly do less than at least gently recommend it.