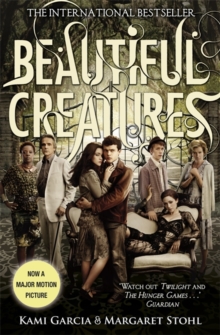 Beautiful Creatures
Paperback
Description
*This edition features exclusive movie cover art* A brand new film tie-in edition of the bestselling love story, Beautiful Creatures - a romance that is bound to capture the hearts of Twilight fans everywhere.
This edition ties in to the major new Warner Brothers and Alcon Entertainment blockbuster film starring Emma Thompson, Jeremy Irons, Alice Englert and Alden Ehrenreich. In Ethan Wate's hometown there lies the darkest of secrets ...There is a girl. Slowly, she pulled the hood from her head. Green eyes, black hair. Lena Duchannes. There is a curse. On the Sixteenth Moon, the Sixteenth Year, the Book will take what it's been promised. And no one can stop it. In the end, there is a grave. Lena and Ethan become bound together by a deep, powerful love.
But Lena is cursed and on her sixteenth birthday, her fate will be decided. Ethan never even saw it coming. Praise for Beautiful Creatures: 'Watch out Twilight and Hunger Games' - The Guardian 'Move over Twilight, there's a new supernatural saga in town.' - E! 'This novel has been generating Twilight-level buzz.'- Teen Vogue About the authors: @kamigarcia is a superstitious American southerner who can make biscuits by hand and pies from scratch!
She attended George Washington University and is a teacher and reading specialist.
She lives in Los Angeles, California with her family. @mstohl has written and designed many successful video games, which is why her two beagles are named Zelda and Kirby.
She has degrees from Yale and Stanford Universities in the US and has also studied in the prestigious creative writing department at UEA, Norwich. She lives in Santa Monica, California with her family. www.beautifulcreaturesthebook.com Also available in the Beautiful Creatures series: Beautiful Darkness, Beautiful Chaos and Beautiful Redemption. *Don't miss the brand new DANGEROUS CREATURES series, set in the world of Beautiful Creatures* Exclusive ebook novellas also available: Dream Dark Dangerous Dream
Information
Format: Paperback
Pages: 568 pages
Publisher: Penguin Books Ltd
Publication Date: 01/01/2013
Category: Fantasy
ISBN: 9780141346144
Other Formats
Paperback from £7.09
EPUB from £3.99
Free Home Delivery
on all orders
Pick up orders
from local bookshops
Reviews
Showing 1 - 2 of 2 reviews.
Review by wyvernfriend
16/06/2015
While there were aspects of the book I did really like, there were aspects that just didn't quite work for me. The characters are interesting but after a while kinda blurred into sameness. I also have great moral reservations about the fated to be good or evil sthick.I liked the narrator, Ethan, he was a nicely down-to-earth character and interesting. While it was long, the book flowed for me and I ploughed through it. I want to see the movie now and am curious about the rest of the series.
Review by ElleLainey
16/06/2015
I started reading this because of the movie advert. I saw the advert, thought WOW and looked forward to seeing it. Then I discovered it was a book. I thought - even better - a book I can read right away, a book that is a series and I can always catch the movie afterwards and compare the two.What I loved about this book, the first in the Caster Chronicles, is that it's from Ethan's perspective. The whole book is through Ethan's POV. I wasn't expecting that, after seeing the advert for the film and reading what the book is about. It really works.This is the second book I've read recently, that is essentially a teen romance mixed with the supernatural, which is told from the lead male's POV. I think this really works. There's more mystery, more intrigue and it's less…for lack of a better word…soppy. In this book, you have no idea what's going on with Lena or with Ethan himself, because Ethan doesn't know.A large part of the story plot is a locket that gives Lena and Ethan visions of the Civil War era, and glimpses of the lives of Genevieve Duchannes and Ethan Carter Wate, Ethan and Lena's great-great-great- relations. I loved this part. Each time they stepped into this story, I was even more enthralled, even more caught up in the mystery and drama and romance. I think the mirror of Ethan and Lena's relationship with Genevieve and Ethan's is subtle, intriguing and adds to the overall mystery of what is going on between both couples.I really liked Uncle Macon, and Link was a favourite too. I think the added part of Marian and her role between the Casters and the Mortals was inspirational, it's always great to have an impartial character hanging around for those sticky moments. It was a total shame to lose someone from the story, but sometimes the story just calls for it. It worked and it was gut-wrenching when you realised what had happened. I really loved the twists, the never knowing and the dynamic relationships. Overall, reading Beautiful Creatures is like being sucked into Lena's notebook with no choice, no backing out and no option but to see it through to the end. There's no putting it down. You open the cover and you have to see it through to the other side.