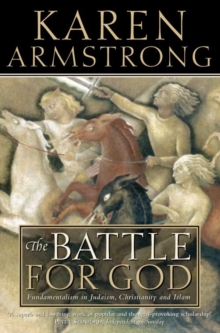 The Battle For God: Fundamentalism in Judaism, Christianity and Islam
Paperback
Description
Britain's greatest religious historian chronicles the rise and rise of fundamentalism.
One of the most potent forces bedevilling the modern world is religious extremism, and the need to understand it has never been greater.
Focusing in detail on Protestant fundamentalism in the United States, Jewish fundamentalism from sixteenth century Spain onwards and Muslim fundamentalism over the last four hundred years, Armstrong examines the patterns that underlie fundamentalism.
These evolve from the clash between the conservative pre-modern mind that is governed by a love of myth, and the progressive rational society that relishes change.
Fundamentalists view the contemporary world with horror, rejecting its claims to truth, and a state of war now exists over the future of our culture.
They are not terrorists, rather, they are innovative, existing in a symbiotic relationship with an aggressive modernity, each urging the other on to greater excess.
The Battle for God is original in its thesis and in its understanding; as a history of religious ideas it is fascinating, and as an explanation of one of the most destabilizing forces at large in the world today it is extraordinary.
Information
Format: Paperback
Pages: 464 pages
Publisher: HarperCollins Publishers
Publication Date: 02/04/2001
Category: Comparative religion
ISBN: 9780006383482
Other Formats
EPUB from £4.49
Paperback from £8.65
Free Home Delivery
on all orders
Pick up orders
from local bookshops
Reviews
Showing 1 - 1 of 1 reviews.
Review by RajivC
16/06/2015
On the whole, I would say that this is a very good book. She does a very good job of tracing the course of history when seen from a religious aspect, through the ages. I especially liked the way that she emphasized the play between the mythos and the logos. I must confess that, when I read the book, I was going through some strange times, so I did not concentrate that much on the book. In that sense, I possibly did not do the book as must justice as I should have. While she does do a very good job of tracing the development of the recent trends in fundamentalism in the three religions - Christianity, Islam, and Judaism - I felt that there was too much information in the book. This was probably required in the telling of the tale. Yet, the information does tend to get heavy at times, especially if you are not in the best concentrating mood. It is a book that needs to be read slowly, and with care. Karen's strengths evidently lie in these three religions. I have never come across any writing from her on the religions of the East. This is a pity, because I have seen the rise of fundamentalism in Hinduism. While Hindus often talk of this as a reaction to militant action by the Muslims over the centuries, and by British oppression; this alone cannot describe the rise of fundamentalism among the Hindus.For the next edition of her book, she should cast her eyes eastwards.