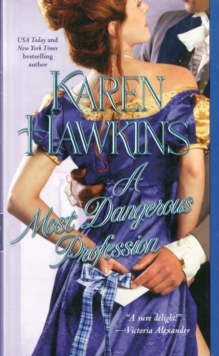 A Most Dangerous Profession
Paperback
Description
Robert Hurst, a secret operative in the King's service, is tracking down the mysterious onyx box needed to ransom his kidnapped brother.
Moira Muir is seeking the same box for a very similar reason: her young daughter is being held captive.
But there are further complications: years ago, Moira and Robert had an affair before he learned she was a counter-spy. And when she discovered she was pregnant, she tricked him into marrying her.
Now the two must put aside their anger and join forces to find the box and rescue their daughter ...finding love all over again along the way.
Information
Format: Paperback
Pages: 384 pages
Publisher: Simon & Schuster
Publication Date: 27/10/2011
Category: Romance
ISBN: 9781439175941
Free Home Delivery
on all orders
Pick up orders
from local bookshops
Reviews
Showing 1 - 3 of 3 reviews.
Review by jeana.dawn
16/06/2015
I'm a huge fan of Karen Hawkins, with both her historical and contemporary romances. In all honesty, I fall in love a little more with her writing with each new story that I read. I've been looking forward to this book since the end of the last Hurst Amulet story.If my memory serves me correctly, and it's quite possible that it's not reliable in this instance – in the previous stories in the series, Robert is the do-gooder that excels at his job with the Home Office, the reliable brother that the rest of the family can count on. It was somewhat exciting at the end of the last novel to discover that the beautiful red-headed thief is non other than Robert Hurst's errant wife.I knew in that moment that the story between Robert and Moira would be a fun, exciting read, and Karen Hawkins did not dissapoint.Robert and Moira are both very strong characters equally determined in their goals. And yet, they are also each other's weakness – better yet – once their secrets are openly revealed to one another, they become each other's strengths through mutual love, trust, and vengeance4.5 out of 5 stars for A Most Dangerous Profession..
Review by addictofromance
16/06/2015
Moira MacAllister, knows that she has no choice but do what she is told because she is being blackmailed with the only thing that truly matters to her...her daughter is being held captive by the ransomer, and the father of her daughter who has no idea he is a father is the one who keeps chasing her and trying to keep her from the goal. However when she keeps bumping into Robert, she knows that she will eventually have to tell him the truth....and when the truth comes out Moira wonders that when he does know the truth if he will then take her daughter from her when she has been fighting for everything she has to get her daughter back into her arms...but the passion that she and Robert share is unquenchable, and when danger closes in only when they embrace the love they share for each other will they be able to conquer the perils they face.A Most Dangerous Profession is the third installment in this exciting series by Karen Hawkins. I have to say this would have to be one of my top favorite series done by this author. There was such intrigue, passion, danger and excitement and fully packed with enough love story to last one quite some time. The one aspect that I truly enjoyed was the 'secret baby' theme, I just love reading those theme like romances, especially it exceeds your expectations....Moira has just cracked me up through the whole book, and Robert was pretty swell....and the little daughter was as cute as can be....I found myself totally engrossed in the story and the details painted so vividly that one couldn't help but fall in love. A Treasure to be savored and enjoyed.
Review by caittilynn
16/06/2015
6/17/13I recently read this book for the second time and it was pretty much as I remembered it: A fun, quick, romantic read. 5 years ago, Moira MacAllister was a spy who seduced Robert Hurst and then disappeared. Now she is back, in the search for several onyx boxes that she must use to get back her daughter who has been kidnapped. When she and Robert run into each other, it is only a matter of time before they work out their differences.Because of the past between the two characters, I feel like there was very little effort into flushing out their relationship. It felt like neither of them had changed over the preceding 5 years and they were just picking up right where they left off. There is very little drama between them, which makes it almost too easy for the characters to get back together. All in all, the characters were fun. The plot was fast paced and it was a good addition to the series.
Also in the The Hurst Amulet series | View all