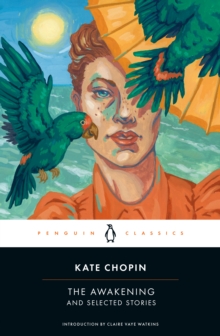 The Awakening And Selected Stories,
Paperback
Description
The Awakening and Selected Stories is Kate Chopin's groundbreaking depiction of a woman who dares to defy the expectations of society in the pursuit of her desire, edited with an introduction by Sandra M.
Gilbert in Penguin Classics. When 'The Awakening' was first published in 1899, charges of sordidness and immorality seemed to consign it into obscurity and irreparably damage its author's reputation.
But a century after her death, it is widely regarded as Kate Chopin's great achievement.
Through careful, subtle changes of style, Chopin shows the transformation of Edna Pontellier, a young wife and mother, who - with tragic consequences - refuses to be caged by married and domestic life, and claims for herself moral and erotic freedom. In her introduction, Sandra M. Gilbert considers the issues explored in the novel and the stories collected here (including 'Emancipation', 'At the 'cadian Ball', and 'Desiree's baby') from their growth out of the feminist literary tradition of the nineteenth century, to their place among other concerns of fin de siecle writers in America and Europe, to their impact on contemporary feminist writing. Katherine O'Flaherty (1850-1904), known by her married name Kate Chopin, was an American author of short stories and novels.
Her works appeared in literary magazines and popular American periodicals of the day, including Vogue and The Atlantic.
In 1899, her second novel, The Awakening, was published to much outrage and harsh criticism based upon moral, rather than literary, standards. If you enjoyed The Awakening and Selected Stories, you might enjoy Jean Rhys's Good Morning Midnight, also available in Penguin Classics.
Information
Format: Paperback
Pages: 288 pages
Publisher: Penguin Putnam Inc
Publication Date: 04/02/2003
ISBN: 9780142437322
Other Formats
Paperback from £2.50
Paperback / softback from £4.99
Hardback from £11.99
EPUB from £2.49
Free Home Delivery
on all orders
Pick up orders
from local bookshops
Reviews
Showing 1 - 4 of 4 reviews.
Review by k8_not_kate
16/06/2015
"I would give up the unessential; I would give my money, I would give my life for my children; but I wouldn't give myself. I can't make it more clear; it's only something which I am beginning to comprehend, which is revealing itself to me." This touching and meaningful passage from The Awakening says everything about the main character's realization that she can be more than an accessory to her husband and children. An early feminist novel, this story is both tragic and telling about the lives of women in the Victorian era.
Review by sturlington
16/06/2015
This classic was published in 1899, but many people may not have had the opportunity to read it. Even though it's over one hundred years old, the themes it raises are very relevant to us today and should spark a lot of discussion.The Awakening is remembered as an early feminist work. When Chopin published it, its subject was so radical that the book was denounced and the author was shunned by both readers and publishers. It is about a young wife and mother, Edna Pontellier, who finds herself changing during a pivotal summer at the Grand Isle resort in Louisiana.No longer content to remain in her traditional role, Edna awakens to a desire to live as she feels inside and finds it impossible to conceal her innermost passions from the world. But her desires conflict with the conventions of society. Women have come a long way since then, but we can still relate to how Edna feels and the obstacles she faces.
Review by bookworm_naida
16/06/2015
Kate Chopin's The Awakening is one of my favorite pieces of literature and I thought it was finally time to re-read it. The New Orleans coastal setting during the nineteenth century is at the heart of this novella. Chopin sets the mood just right and as I read, I felt like I was in Louisiana by the coast. I could almost smell and hear the ocean. The story is about a woman named Edna Pontellier who is in her late twenties. Edna is a married mother of two small boys. Her husband Leonce gives her a seemingly satisfying lifestyle. Yet Edna is unhappy, often feeling restless and unfulfilled. As the story unfolds, Edna falls in love with a man named Robert Lebrun while on summer vacation at the Grand Isle resort in the Gulf of Mexico. She begins to awaken to feelings and thoughts within herself she never knew existed. In an attempt to resist temptation and heartache from an affair that can lead nowhere, Robert leaves abruptly for Mexico. When the summer is over, Edna and her family return to New Orleans. While Robert is gone, Edna misses him and finds herself beginning to feel even more dissatisfied. She begins to paint, considering herself an artist. Edna's husband leaves on a business trip and while he is away, she ends up moving out of their home and renting an apartment by herself. Edna meets a man named Alcée Arobin, who is known for his womanizing. She enjoys flirting with him and the two eventually have an affair. When Robert returns to New Orleans, he and Edna both confess their feelings for one another. At this point, Edna knows she no longer loves her husband and wants to be 'free'.I like how Kate Chopin broke convention and wrote stories that challenged the norm. Her stories dealt with issues that weren't openly accepted or spoken about when she was alive. In this story, a married woman decides she no longer wants to be tied down by her husband and even by her own children. She takes a lover and moves into her own apartment, all with no remorse. Although I didn't agree with Edna's behavior, I found myself almost mesmerized while reading Chopin's beautiful prose. "The voice of the sea is seductive; never ceasing, whispering, clamoring, murmuring, inviting the soul to wander for a spell in abysses of solitude; to lose itself in mazes of inward contemplation. The voice of the sea speaks to the soul. The touch of the sea is sensuous, enfolding the body in its soft, close embrace."I admire how Chopin pushed the envelope. The ending is harsh and poignant and not something I would think the reader is expecting. The story that caused so much uproar in Chopin's day, is now considered a classic of feminist fiction. That counts for something.
Review by Booktrovert
16/06/2015
this was great!! i only gave it a 4/5 though because i felt abruptly jarred out of the awakening and into the other stories int he collection. it was only on going back and re-reading the ending of the awakening that i felt, ah, yes. okay. that's over now. clearly i wasn't ready for it to be over. the other stories in this collection were interesting. i don't tend to fare well with short stories as i feel like i am missing something or they are too ambiguous/unfinished. i wish this were the case as many writers i like and respect are masters of the genre and, yeah -- i feel like a failed reader. that's my long ramble way of saying some of the other stories in the collection were fine and some weren't. on its own, the awakening is a 5-star read. this collection is a 4-star as the other stories i would only rate as a 3-star collection. if that makes sense?