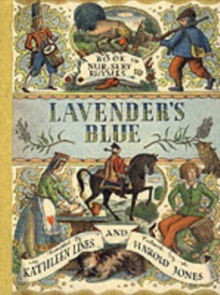 Lavender's Blue : A Book of Nursery Rhymes
Hardback
Description
A definitive collection of nursery rhymes, beautifully designed and illustrated by the influential artist Harold Jones.
This facsimile has been lovingly produced to recreate the look and feel of the first editions of this much-loved book.
Information
Format: Hardback
Pages: 180 pages, full colour throughout
Publisher: Oxford University Press
Publication Date: 02/09/2004
Category: Early learning: verse & rhymes
ISBN: 9780192782274
Free Home Delivery
on all orders
Pick up orders
from local bookshops
Reviews
Showing 1 - 2 of 2 reviews.
Review by BenjaminHahn
16/06/2015
This facsimile edition of the classic nursery rhyme book Lavender's Blue is excellently illustrated and perfect for introducing children to classic English nursery rhymes. I mostly read this book out loud to my wife while she was sewing. I was impressed with Oxford Press' attention to illustration detail. I was also a bit shocked at how gruesome some of these nursery rhymes were. There are lots of beheadings, chopping off of limbs, child deaths, and a penchant for cruelty to cats. Perhaps it signifies how much closer to death and disfigurement the old world used to be when it came up with all these little couplets and quatrains to help teach children how to count, read, and rhyme. You can certainly tell that cats had a rough go of it back in the day. If you don't enjoy reading the word "pussy' over and over again than you'd better steer clear of pages 102-122.Regardless, all the classics are in here: Humpty Dumpty, Peter, Peter, Pumpkin Eater, Three Blind Mice, There was an Old Woman who Lived in a Shoe, ect.. And many less well known rhymes too which I had never heard before. There are even some riddle rhymes which the reader can guess the answer to by deciphering the illustrations on the page. Overall, a nice addition to our slowly growing children's and young adult section of the Hahn family library.
Review by xuesheng
16/06/2015
What fun to read the nursery rhymes in Lavender's Blue! At 170 pages with often more than one rhyme per page, Lavender's Blue is chock full of them. Kathleen Lines did a marvelous job compiling so many old rhymes, and the illustrator, Harold Jones, created pictures for each using a mix of color and black and white drawings to accompany them. There are some rhymes in here that I don't remember ever seeing in a book before, but that I learned from my mom, specifically this one which also is a face game:Here sits the Lord Mayor,Here sit his men,Here sits the cock,Here sits the hen,Here sit the little chickens, (although Mom says "chicks")Here they run in,Chinchopper, chinchopper, chinchopper, chin.The instructions on how to do the motions for this and some other hand and finger games for a few of the rhymes are even included in the back of the book. I certainly enjoyed reading this book and only wish I had had it when my children were preschool age so that I could have taught them more rhymes.