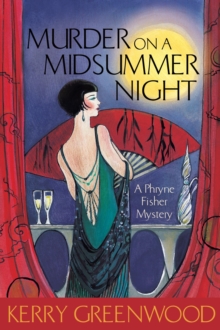 Murder on a Midsummer Night : Phryne Fisher
Paperback
Description
'I must say Jack, I have been in some awful company before - I have dined with torturers and Apaches and strict Plymouth Brethren and politicians - but I never met such vile company as those people.
Each in his or her own way, they were frightful.'Melbourne, 1929.
The year starts off for glamorous private investigator Phryne Fisher with a rather trying heat wave and more mysteries than you could prod a parasol at.
Simultaneously investigating the apparent suicide death of a man on St Kilda beach and trying to find a lost, illegimate child who could be heir to a wealthy old woman's fortune, Phryne needs all her wits about her, particularly when she has to tangle with a group of thoroughly unpleasant Bright Young Things.But Phryne Fisher is a force of nature, and takes in her elegant stride what might make others quail, including terrifying s ances, ghosts, Kif smokers, the threat of human sacrifices, dubious spirit guides and maps to buried pirate treasure .
Information
Format: Paperback
Pages: 300 pages
Publisher: Allen & Unwin
Publication Date: 11/01/2008
Category: Crime & mystery
ISBN: 9781741149999
Free Home Delivery
on all orders
Pick up orders
from local bookshops
Reviews
Showing 1 - 4 of 4 reviews.
Review by Lman
16/06/2015
The Honorable Miss Phryne Fisher is fun! Even at #17 in the series, and even suffering through a typical Melburnian summer heatwave, the comings and goings of the Fisher household are just as frantic, just as enlivening and just as entertaining as ever.In customary Phryne-fashion, in a twinkling our inimitable doyenne of detection is immersed in two seemingly unrelated cases: one, an apparent suicide that a mother refuses to believe plus a second, that of a missing child, born out of wedlock, and now a beneficiary of a forever-grieving mother's will. It is 1929 and closing on Phryne's 29th birthday but our incomparable investigator navigates the difficulties and the disagreeable diversions obstructing these latest cases with her usual aplomb despite the discomfort of the weather - if at times stretching her own, and every last member of her household's, usual equanimity.There is something most satisfying in these books for me. Ms Greenwood consistently replenishes her stories with intriguing originals surrounded by curious and fascinating environs, enchanting in their authenticity. I always learn a great deal about my country from these times; both good and bad. Although readily described as lightweight, somewhat melodramatic and, perhaps at times, overly supplied with caricature, there is an ease to the perusal of these books and a lingering warmth and an enduring emotion of delight one feels throughout. I simply feel good after finishing these books!Whilst not flawless, Miss Fisher is however an impeccably accomplished personage; interestingly fresh and splendidly faultless in her attitude to life, and love, and fair play - providing a most amusing interlude and much joy. And what can be wrong with that? Thus I am happily anticipating the next Phryne adventure - pleasingly soon to arrive.(Oct 12, 2010)
Review by smik
16/06/2015
The year is 1929 and Phryne Fisher will be 29 on the 13th January. Phryne is asked by her sister Eliza to investigate the death of Augustine Manifold. The coroner has brought in a verdict of accidental drowning while drunk, but his mother, Eliza's friend, is convinced that he was murdered. The same age as Phryne, Augustine was a dealer in antiques and the only family Mrs Manifold had left.A second case comes Phryne's way when a barrister at law asks her to solve the case of a missing inheritor. Mrs Bonnetti has died leaving her estate to be divided equally between her children, the issue of her body, that is. The barrister suspects there may have been a child born out of wedlock.Of course, Phryne finds that neither case is solved either quickly or simply. Both involve a nest of characters, some of whom are particularly nasty.I felt the book lost a little through the division of attention between the two cases. Of interest though is the way in which Phryne involves members of her household in the investigations, in particular her companion Dot, and her adopted daughter Jane who is a budding forensic pathologist.Kerry Greenwood takes great pains to get historical details correct, and supplies a Bibliography with further reading for those who want more reading. She says in the Afterword "This book has left me feeling a bit like a Dr Who casualty; time-sick. Fortunately I can vouch for all of my facts."One reference that interested me was this one:Phryne is speaking to her friend Detective Inspector Robinson: "...I have been in some awful company before - I have dined with torturers and Apaches and strict Plymouth Brethren and politicians - but I have never met such vile company as those people. Each in his or her own way, they were frightful."The use of the word Apache was something I discovered in Agatha Christie's THE MYSTERY OF THE BLUE TRAIN and in THE BIG FOUR. It was interesting to find Kerry Greenwood using it, and for me it added just that bit of authenticity to the story.MURDER ON A MIDSUMMER NIGHT is #17 in the Phryne Fisher series, and Kerry Greenwood is the holder of a Ned Kelly Award for Lifetime contribution (2003).
Review by austcrimefiction
16/06/2015
It's been a long time since I caught up with Phryne and her household of adopted daughters, faithful retainer, dedicated companion, cook and exotic lover. Part of the reason for that was the feeling that it was all a little same old same old. What I did find with MURDER ON A MIDSUMMER NIGHT is that sometimes a short visit with old friends is just plain good fun.If you're going to live in the 1920's in Melbourne, in the middle of a heatwave you'd be quite comfortable if you had Phryne's life. You'd be less happy if you were an aspiring antique dealer and purveyor of high class junk whose body was found in the water at St Kilda beach. His mother simply does not accept suicide and Phryne, and her entire crime-busting household must prove that his death was anything but. Meanwhile Phyrne is also called upon to resolve an old mystery for the family of a recently deceased mother - is there an illegitimate child from before her marriage?The mysteries that occupy Phryne's time in this book are interesting, and there are little snippets of investigative technique that sit well within the period of the book (such as working out the contents of the lungs of a drowning victim). Luckily that timeframe makes any odd procedural elements just not an issue. Of course, most of the investigating seems to be done by Phryne swanning around parties and such-like, getting people to talk to her, although Dot - her faithful companion is not above donning her good hat and heading out for some fact checking and tree shaking. Perhaps that's one of the strengths of these books now - there's more of an ensemble cast, all of whom have their roles and the story seems more multi-layered because of it. There's also those lovely little reminders of time gone by. Alas the idea of a block of ice and a fan somehow being old fashioned just made this reader feel desperately old as that was a well known trick when we were children (albeit we needed to be ill for it to be called into play). Now if there's 1 or 2 people left out there who haven't read these books, Phryne's sex life is a tiny bit risqué - not so that you'd notice these days - but it's still a little titbit that gives the books that little extra.The Phryne Fisher books are undoubtedly highly entertaining, lovely little pieces of fun wrapped up in a mystery and an idyllic lifestyle. This isn't a series that I work at keeping up with - and I have missed a lot of books in the middle which one day I will try and catch up with, but it is nice to know they are out there waiting. For readers who are looking for something fun, light and just a little bit saucy, MURDER ON A MIDSUMMER NIGHT would be a wonderful way to spend some time.
Review by JenneB
16/06/2015
There were two different plots in this one and I didn't especially care about either one, and I don't think the author did either. What it was <i>really</i> about, as far as I could tell, was How To Cope When it's Really Hot and You're Fabulous.
Also in the Phryne Fisher Murder Mysteries series