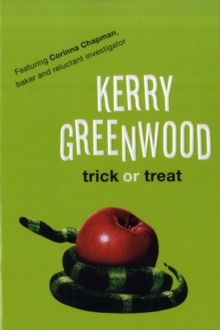 Description
Corinna Chapman, amateur sleuth, baker extraordinaire and proprietor of the Earthly Delights Bakery, returns for her fourth criminally entertaining and delicious adventure.When a cut-price franchise bakery opens its doors just down the street from Earthly Delights and crowds flock to purchase the bread, Corinna Chapman is understandably nervous.
Meanwhile, the gorgeous Daniel's old friend Georgiana Hope has temporarily set up residence in his house, and it doesn't take Corinna long to work out that she's tall, blonde, gorgeous and up to something.
Daniel is making excuses and Corinna is worried about his absences and also the strange outbreak of madness which seems to be centred on Lonsdale Street.
Will Corinna win through a maze of health regulations, missing boyfriends, sinister strangers, fraudulent companies and back-alley ambushes? Or will this be the end for the Earthly Delights Bakery?
Information
Format: Paperback
Pages: 304 pages
Publisher: Allen & Unwin
Publication Date: 01/09/2007
Category: Crime & mystery
ISBN: 9781741750003
Free Home Delivery
on all orders
Pick up orders
from local bookshops
Reviews
Showing 1 - 4 of 4 reviews.
Review by sunniefromoz
16/06/2015
TRICK OR TREAT is the third in the Corinna Chapman series and my first meeting with her. I liked Corinna enormously. Hers was a world I want to inhabit. Inner city living in a beautiful old building with what appears to be affordable costs with a group of lovely people. Lots of wonderful food and fine wine. I want that life!!!It's probably just as well I don't have it. I'd be the size of a house rather than the commodious garden shed that I am now.There were a couple of tiny things that didn't quite work for me. The presence of cats in the bakery being one. My son is a baker and there's no way they'd be allowed to trade with felines on the premises. And the sheer hard physical labour involved in the job is glossed over. But that's understandbale. Trick or Treat is as much a fantasy as it is a crime fiction. It is an idealised life. In that respect TRICK OR TREAT reminded me of The Darling Buds of Mayh with the lavish and loving descriptions of meals eaten. And that was my main problem with the book. While reading these descriptions it was difficult to resist the almost overpowering urge to go and rummage in the fridge for a snack.TRICK OR TREAT is a real treat, but not one I'd recommend to anyone trying to diet!!TRICK OR TREAT is a 2008 Ned Kelly Nominee
Review by shelleyraec
16/06/2015
Probably my favourite of the series with a solid mystery or three, and much less formal style than the others. The usual quirky cast of characters with some nutcases thrown in. I plan to try that cake and I am always left craving fresh bread and muffins.
Review by bsquaredinoz
16/06/2015
In the fourth book of this series baker Corina Chapman is having a tough time with a competitor opening up shop a few doors away from her business and her boyfriend inviting a long-legged, beautiful woman to stay with him. If that's not enough it seems there might be some extra-nasty drugs being sold nearby that are sending people mad.<br/><br/>Do you have a friend who you've known for ages and whose family gatherings you are automatically invited to? And does this friend's family delight you with its eccentric members and good-heartedness although you can see how it might be less delightful to be related to them than to drop in (and out) when it pleases you? I do have a friend like this but I have to say that the gang in the Corina Chapman series are nearly as much fun to visit as her family. Corina is funny, socially conscious and a highly credible reluctant amateur detective, her boyfriend is a former Israeli soldier who does a nice line in romantic gestures and in this outing her friend the white witch and an ex drug-addict turned apprentice baker feature heavily. They're all, along with the rest of the residents of the Insula apartment building, great characters. <br/><br/>I often think, at the start of these books, that I'm just going to revel in the characters and not worry too much about the invariably slightly-odd story but I always get engaged by the deft way in which the subjects are handled. This one features a couple of story lines that are both intriguing and well researched and, in combination with the clever and amusing writing style round out a terrific reading experience. If you're into 'cosies' you'll love this book and if you're looking for something a little light but still intelligent and witty then I think you'll be pleasantly surprised. Sure it's a little fantastical but a happy ending every now and again is just what my doctor ordered.
Review by Condorena
16/06/2015
I always like spending a little time with Corinna Chapman and cohorts in Melbourne and imagining I can smell the wonderful breads, muffins and other goodies she bakes up in her bakery Earthly Delights as the mystery rises and comes to fruition.
Also in the Corinna Chapman series