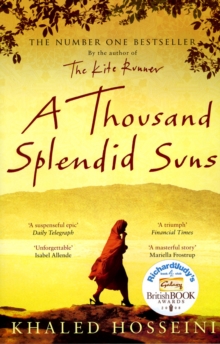 A Thousand Splendid Suns
Paperback
Description
Mariam is only fifteen when she is sent to Kabul to marry the troubled and bitter Rasheed, who is thirty years her senior.
Nearly two decades later, in a climate of growing unrest, tragedy strikes fifteen-year-old Laila, who must leave her home and join Mariam's unhappy household.
Laila and Mariam are to find consolation in each other, their friendship to grow as deep as the bond between sisters, as strong as the ties between mother and daughter.
With the passing of time comes Taliban rule over Afghanistan, the streets of Kabul loud with the sound of gunfire and bombs, life a desperate struggle against starvation, brutality and fear, the women's endurance tested beyond their worst imaginings.
Yet love can move a person to act in unexpected ways, lead them to overcome the most daunting obstacles with a startling heroism.
In the end it is love that triumphs over death and destruction.
A Thousand Splendid Suns is an unforgettable portrait of a wounded country and a deeply moving story of family and friendship.
It is a beautiful, heart-wrenching story of an unforgiving time, an unlikely bond and an indestructible love.
Information
Format: Paperback
Pages: 384 pages
Publisher: Bloomsbury Publishing PLC
Publication Date: 22/05/2007
ISBN: 9780747582977
Free Home Delivery
on all orders
Pick up orders
from local bookshops
Reviews
Showing 1 - 5 of 13 reviews.
Previous | Next
Review by murraymint11
16/06/2015
I really enjoyed this book and admire Hosseini's storytelling abilities, and how he can tug at the heartstrings. I felt that it wasn't quite up there with The Kite Runner, but close. However, I was annoyed that the description on the back of the book gave away some of the plot direction - events described there didn't happen until halfway through the book. I would describe this book as a slow-burner which became more engrossing as you read on - plenty of detail on what it was like on the ground during Afghanistan's turbulent last 30 years, and some heart-rending tales.
Review by CatyM
16/06/2015
This is an amazing book, and I don't really know where to begin commenting on it. The evocation of the places the places in which is it set - both geographic and cultural - is stunning: beautiful, detailed, empathetic and vivid. The characters are clearly drawn, like a word-photograph of both appearance and personality.The book is often disturbing and uncomfortable: Mariam's unhappy childhood; the fear and uncertainty of living through war; the casual inflicting and acceptable of violence by the authorities - and, worse, in the home; the psychological brutalisation of a family and of a people; the knowledge that 'to endure' is all that can be done.The developing relationship between Mariam and Leila is remarkable: the initial conflict (showing the simultaneously startling and inevitable extent to which Mariam has accepted her abusive marriage as normal and to be accepted and endured), the first tentative beginnings of friendship, to a strange blend of sisterhood and maternal love.The return of Tariq could feel so trite, and yet you feel as you read it that it is just so typical of Rasheed to have lied to and manipulated Leila in this way. There is also an awareness of the possibility for disaster in his return: you can see the final crisis coming with the same sense of anticipatory dread you feel when you lose control of a car, and know that a painful and dramatic impact is both imminent and inevitable. The sense of reality and horror conveyed to the reader as the final conflict is played out is astonishing. Tariq, of course, is also a damaged man - no longer the bright-eyed youth we knew in the earlier chapters - and there is little joy in reconciliation amidst the tragedy of Mariam's fate.In a way, though, there is, amidst the horror, something of a positive ending to Mariam's story: in a life which has been so much one of 'endurance', as her mother foretold, she does not endure but instead chooses her fate. There seems to be a kind of liberation in this: she is not running, nor enduring, but facing a destiny she has chosen, and doing so with courage and out of love.There is no happy ending - and yet there <i>is</i>. No twee 'happily ever after' - which would not have done justice to the suffering, the survival instincts, the hurt or the hope of the characters, or indeed the reality of the country - but positive, hopeful and powerful. The rebuilding of shattered lives, and the promise of better times ahead.
Review by wendyrey
16/06/2015
A bit like Eastenders with torture added. A soap opera set in Afghanistan where almost everything imaginable unpleasant happens to two women. Their husband is extraordinary brutal to them and is somewhat of a caricature of wickedness. Brutal lives in a society brought to brutality by war. In the middle part parts of the book Mariam (one of the main characters ) is horrified and distressed by a hanging while near the end she barely notices. Deeply moving in parts but one starts to wonder what else can go wrong for the women.PS what are 'bleachers'
Review by dom20
16/06/2015
Shocking, yet wonderfully compulsive book. I learnt so much about Afganistan and the treatment of women (or at least the story of one woman). A really beautiful book.
Review by tillymint100
16/06/2015
I was unsure as to whether I would enjoy this or not. A friend said she had felt the same but once she got into it she loved it and so did I. I couldn't put the book down. A really sad and moving but enjoyable read