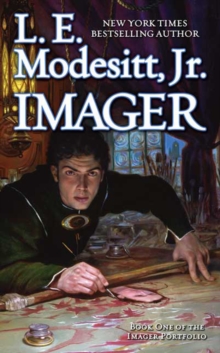 Description
Although Rhennthyl is the son of a leading wool merchant in L'Excelsis, the capital of Solidar, the most powerful nation on Terahnar, he has spent years becoming a journeyman artist and is skilled and diligent enough to be considered for the status of master artisan - in another two years.
Then, in a single moment, his entire life is transformed when his master patron is killed in a flash fire, and Rhenn discovers he is an imager - one of the few in the entire world of Terahnar who can visualize things and make them real.
He must leave his family and join the Collegium of Imagisle.
Imagers live separately from the rest of society because of their abilities (they can do accidental magic even while asleep), and because they are both feared and vulnerable.
In this new life, Rhenn discovers that all too many of the 'truths' he knew were nothing of the sort.
Every day brings a new threat to his life. He makes a powerful enemy while righting a wrong, and begins to learn to do magic in secret. "Imager" is the innovative and enchanting opening of an involving new fantasy story.
Information
Format: Paperback
Pages: 512 pages, maps
Publisher: St Martin's Press
Publication Date: 04/02/2010
Category: Fantasy
ISBN: 9780765360076
Free Home Delivery
on all orders
Pick up orders
from local bookshops
Reviews
Showing 1 - 4 of 4 reviews.
Review by harpua
16/06/2015
As I read this book, I thought that I really shouldn't like this. It seemed a bit slow, not much action and the action that was in there just seemed thrown in as if the author said "We need some action.....right......here". This is the type of book that typically wouldn't hold my interest.However, this was not the case. Oh yes, the pace was kind of slow, this book really appears to be a setup for later books, but it was one I couldn't put down. I've read a lot of complaints on this book that people didn't enjoy a lot of the political background and yes there are pages of that. For some reason, for me, it was enjoyable. It wasn't a tough read, not so dense that it was work to grasp it all. Oh sure, Modesitt renamed the days (I'm still not sure if there are seven days of the week and what day corresponds to Lundi) and some other unneeded embellishments that typically make a book harder for me to enjoy, but this one just worked.I'm looking forward to getting into the rest of the series and hope that it is as enjoyable as this first one.
Review by zjakkelien
16/06/2015
SummaryPainter Rhenn finds he can image and becomes an imager (magician). Someone tries to kill him and he has to find out who.Story and writing styleUnfortunately, the writing style is a bit stilted and clumsy sometimes, particularly the dialogue: some bits feel as if they were written by a child. The endings of chapters are often irrelevant and abrupt. Overall, the book is repetitive. Lots of descriptions of everybody's clothing, food and wine. Lots of descriptions of every day in Rhenn's life. If you have to write down that nothing much happened, and that Rhenn's day was much the same as the previous ones, perhaps you can skip to one of the days when something does happen. Searching for murderers is also not as exciting as it sounds. It amounts to finding all your old acquaintances and asking them if they have seen something, after which they answer at most that there was a man asking around.On top of that I found the words Modesitt uses for some everyday things contrived. He uses french names for days and months. Why? The society is not french in any way, so it seems to me to be just an artificial way of making the world a bit more exotic. Characters, Character, Robot Characters? I should have said character, because there really is only one, Rhenn, and he is flat and uninspiring. The book is mostly about what he does, hardly about what he feels. He accidentally blows up some people, and although the word guilt is mentioned a few times, it is just a token emotion, it doesn't have any substance. He does worry about what will happen to him because of it, but even that he doesn't do with any intensity. He doesn't have any friends, his relationship with Seliora is insipid, and he is never horrified (when he first has to kill someone in cold blood for instance) or afraid. Perhaps I shouldn't have said character either, I should have said robot. Let me rectify that...As to the other people, none of them are worth knowing. The only one who doesn't feel like she was made from cardboard is Seliora's grandmother. Somehow Modesitt manages to get her character to come across, even though she hardly makes an appearance. So he is capable of it! Would have been nice if he had applied this to everyone else as well...OverallThe book is boring. And I like slow-moving fantasy with descriptions of every day life. The problem is, Imager is taking this WAY too far... A pity, because the book does have potential. It could have been a nice cosy book to curl up with on the couch, if only it hadn't been so BORING! Sigh...
Review by Karlstar
16/06/2015
This is the start of a new series and a new setting for Modessit. In this setting, the world is roughly comparable to mid-1800's Earth. However, a small class of people can 'Image' things into existence on a small scale. Most of these imagers live and train in a facility in the capital city of Solidar. The book follows one particular person, Rhennthyl and his family. Rhennthyl does not want to go into the family business, instead he wants to be a portrait painter. Spoiler alert - its no surprise at all that he turns out to be a very good imager, and most of the book follows his training and first year as an imager. I enjoyed this book and the setting, though so far only the capital city of L'Excelsis is detailed. The very French feel of L'Excelsis seemed a bit odd, but like most of his books his world is well developed, as are his characters. I enjoyed it.
Review by mattries37315
27/08/2015
Imager begins the journey of Rhennthyl on the path first of an artist and later as a Imager, a practitioner of mental magic, in the first of a trilogy as well as a whole series of books by L.E. Modesitt, Jr. The flowing narrative slowly built up the city of L'Excelsis, the culture of the country of Solidar, the Solidar view of the world, religious system, and the practice of mental magic from Rhennthyl's personal experience giving the reader an enjoyable read throughout the book.Rhennthyl, or Rhenn for short, is the eldest son of a wool merchant who decidedly does not like business and instead becomes an artist's apprentice, but while still a journeyman his art career ends with the death of his master when his talent for mental magic sends him to the Imagers on Imagisle. The path of Rhenn's discovery of how to use his magical talent and the sudden danger he soon finds himself is written through his own experience thus allowing the reader to learn along with Rhenn not only the magical system but the mystery of why assassins are after him. Throughout the book Rhenn most not only focus on his magical training and the dangerous situations he finds himself in, but also his family and personal relationships that many times conflict.There are many enjoyable things about this book, as mentioned before the reader learns along with Rhenn about the magical system and it's uses as well as the greater world. The interesting small details are very well written to add to the depth of the world, but this detailing also hurts it as well. While Modesitt gives details in fashion and food, he neglects to give meaning to particular names that everyone in Solidar knows but readers do not like for instant who are Pharsi, tuadins, and the like that seem to be ethnicities or regional titles of individuals. While it could be said that the seemingly formulaic aspect of the book is a negative, if well written it doesn't matter. The amount of assassination attempts on Rhenn and the suddenly plot resolution, or seeming resolution, does hurt the overall story but not enough to make me want to see more.Overall, I enjoyed this my first reading of a L.E. Modesitt book. Even with the gripes I had, it doesn't mean I'm not interested in seeing what twists and turns Rhenn's life and career take in the next two books of the trilogy following his life as an Imager.
Also in the Imager Portfolio series