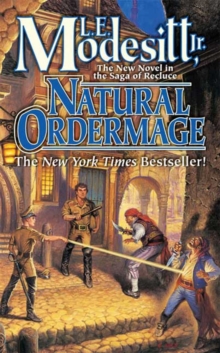 Natural Ordermage
Paperback
Description
Rahl, a young apprentice scrivener on the island of Recluce, likes life to work out in his favour.
To make sure things go his way, he uses a small amount of order magic in opportunistic moments, but his abilities are starting to get the attention of the Council magisters.
He's not like other ordermages, the same rules don't seem to apply to his magic. And he has a bad attitude too. It gets him sent to the mages' training school for testing, and then banishment to Hamor, where his learning continues under dangerous circumstances.During Rahl's exile in Hamor, working in the Ordermage Council's import and export business, his powers increase--and so does the amount of trouble he can get into.Welcome to the fantasy world of L.
E. Modesitt, where the adventure is just beginning.
Information
Format: Paperback
Pages: 384 pages, maps
Publisher: St Martin's Press
Publication Date: 05/05/2008
Category: Fantasy
ISBN: 9780765357755
Free Home Delivery
on all orders
Pick up orders
from local bookshops
Reviews
Showing 1 - 5 of 5 reviews.
Review by MisterJJones
16/06/2015
It's another book by Modesitt, with another coming of age of a strong magic user in an unsympathetic society, sent into exile and forced to make his way in the world. As per usual. Modesitt is seemingly trying to fill in the blanks in his world, so the action in this book takes place in Hamor, a different continent from the other Recluce books, but this can only do so much in adding new sights to what is by now a well trodden path.It's entertaining enough, and an easy read, although at 600 pages more than a little bloated. There are some interesting bits, but new readers would be advised to start with one of his earlier books. Experienced readers should save their money and re-read their favorite - they'll get more out of it.
Review by terriko
16/06/2015
It's been a long while since I read the other Recluce books, so it was nice to step back into the world. I really enjoyed the story, and liked the look at Hanor.However, I have to admit that the main character, Rahl, drove me a bit crazy. His constant, "but no one told me exactly what to do!" reminded me of some of the more obnoxious undergraduates I've dealt with -- unwilling to take any personal initiative and horribly rules-bound for no reason. But even though he irritated me, I kept reading and was happy to see Rahl finally finding his place and learning to control his abilities. It's unusual to see a heavily flawed and stubborn-to-the-point-of-stupid (they call him arrogant, but I'm not sure that's the best adjective) main character who adapts the odd way Rahl does, and though I regularly wanted to slap him, I have to admit his more twisty life path made for a break from usual fantasy "young hero becomes obscenely powerful and conquers the world" model. I'm not even sure he *will* be a hero in the next book, but no matter how frustrating he is, I'm curious to see what happens next!
Review by pmtracy
16/06/2015
Natural Ordermage was very similar in theme to the rest of the Recluce series which is to stop blaming others for your circumstances and take responsibility for your own future. The ending was a bit unsatisfying in that Rahl didn't really get sufficient closure against those that had wronged him. However, there is a sequel.
Review by lafincoff
16/06/2015
Kharl's self-involvement was refreshing. As soon as I started turning the pages of his obnoxious egocentric attitude, I knew that at some point in the book he was going to knock it off. Sure enough, he's banned to Hamor, fussing the whole way. Then in Hamor he is fussing. Yet it is engaging, he was an interesting character. After he's been a slave, it was quite a good read to have his new boss knock the snot out of him in the dark and tell him to quit whining. In the beginning in Recluse, I did catch the author speaking directly to the reader, which was entertaining. There was a passage of ultra detailed moment to moment involvement at a dinner. Then the author commented about level of detail and how it relates. It is interesting to catch authors slipping in remarks about writing style. I like the books. I like the Modesitt style.The description of Hamorian society made me think, and it seemed that in a way the author was describing American culture.
Review by JeremyPreacher
16/06/2015
Continuing with my at-random rereading of the Recluse books, Natural Ordermage is an interesting counterpoint to The Magic of Recluse. There are definite similarities - both feature somewhat self-obsessed young men who can't grasp the nature and responsibilities of their power, and get sent into exile to grow as people. But as novels, they're vastly different.<br/><br/>Natural Ordermage is a mature examination of some of the assumptions that underly the original social setup, using a new time period to explore some of the ways a society that values order above all else can go wrong - or right. Hamor, thus far the perpetual terrifying alien enemy, is now the sensibly-run, if far from democratic, society in contrast to the deeply corrupt Recluse.<br/><br/>Rahl (and no, I have no idea if that's a nod to Terry Goodkind's work or not) starts off as a smug, whiny juvenile, and goes through some real transformation. I particularly enjoyed the idea that not everyone approached the system of magic from a highly intellectual place, and that people require pretty different pedagogical strategies in order to learn. (The contrast reminded me of the way people learn karate - some people scour the manual and keep a journal and think everything to death, and some people close their eyes and wave their arms around and eventually it just goes. And both strategies lead to the same place.)<br/><br/>I'm not rating it any more highly than Magic, although the writing is tremendously tighter and the plot of the novel is clearer and much more engaging. It lacks some of the wonder of the first book in a new world, and so they're fairly balanced. But I do like this one better.