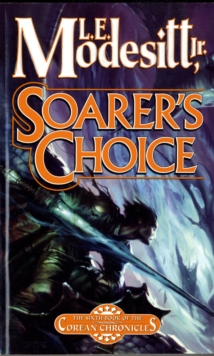 Soarer's Choice
Paperback
Description
The civilization of the Alectors, which has farmed and developed all life on Corus to produce sustaining life force for their vampiric civilization, must move wholesale from one planet to another every few thousand years as it exhausts the life force of another world.
This time, two worlds have been prepared, and the time is at hand for the great move. And Corus is the looking like the loser, to be abandoned by the civilizing forces of the government of Alectors, but used as a dumping ground for malcontents and others who don't make the cut to move on to a richer new world.
This neither bodes well for the future of human civilization, nor for the honest Alector's such as Dainyl, trying to hold everything together, as all systems are failing.
But the mysterious Ancients, the Soarers, are a force to be reckoned with, and they may hold a powerful and destructive trump card.
Information
Format: Paperback
Pages: 576 pages, 1 map
Publisher: St Martin's Press
Publication Date: 12/11/2007
Category: Fantasy
ISBN: 9780765355591
Free Home Delivery
on all orders
Pick up orders
from local bookshops
Reviews
Showing 1 - 1 of 1 reviews.
Review by surreptitiousevil
16/06/2015
In best "Star Wars" tradition, this sixth book of the series is, of course, actually chronologically book 3. The intertwined stories of Dainyl and Mykel continue through the increasing chaos of the decay of the Alector civilisation on Corea, fuelled by the death-throes of Ifra. Once again, a well written and entertaining book by Modesitt, if not as thought provoking as, for example, "The Ethos Effect". A degree of action, some subtlety in Dainyl's side of the story and some surprises in the denouement. Enjoyable fantasy rather than deep philosophy, really, but more than enough to make you think about people and the choices they are forced to.Minor Spoiler - yes, as we all knew, Mykel gets the girl. I am actually struggling to remember a Modesitt series where the hero doesn't get the girl (or boy) in the end - even "The Eternity Artifact" manages it.