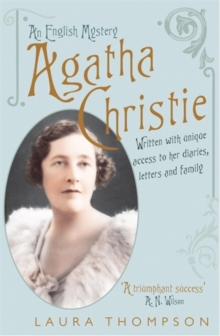 Agatha Christie : An English Mystery
Paperback
Description
The author of the Somerset Maugham award-winning The Dogs: A Personal History of Greyhound Racing, and the brilliant biography Life In A Cold Climate: Nancy Mitford, Laura Thompson turns her highly acclaimed biographical skills to arguably the greatest crime writer in the world, Agatha Christie. 'Laura Thompson's outstanding biography ...is a pretty much perfect capturing of a life' Kate Mosse, Book of the Year 2007 It has been 100 years since Agatha Christie wrote her first novel and created the formidable Hercule Poirot. In this biography, Laura Thompson describes the Edwardian world in which she grew up, explores the relationships she had, including those with her two husbands and daughter, and investigates the mysteries still surrounding Christie's life - including her disappearance in 1926. Agatha Christie is a mystery and writing about her is a detection job in itself. But, with access to all of Christie's letters, papers and writing notebooks, as well as interviews with her grandson, daughter, son-in-law and their living relations, Thompson is able to unravel not only the detailed workings of Christie's detective fiction, but the truth behind her private life as well. Praise for Laura Thompson 'Laura Thompson has certainly written the last word on Agatha Christie. Her book is a superb piece of biography' Literary Review 'Affectionate, admiring, perceptive and absolutely convincing' Sunday Telegraph 'This splendid account of [Christie's] life and work is unlikely to be bettered' Evening Standard 'A triumphant success' Daily Mail 'This book is a gem: fresh, intelligent and assured' Sunday Times 'Laura Thompson is a fine writer ...and one can't help admire the way she breathes new life into an intriguing tale' London Review of Books 'Laura Thompson delivers the goods: a compelling narrative' The Times
Information
Format: Paperback
Pages: 544 pages, 2 x 8pp b/w photos
Publisher: Headline Publishing Group
Publication Date: 10/07/2008
Category: Biography: literary
ISBN: 9780755314881
Free Home Delivery
on all orders
Pick up orders
from local bookshops
Reviews
Showing 1 - 2 of 2 reviews.
Review by eleanor_eader
16/06/2015
Agatha Christie is one of my favourite authors, and Laura Thompson's biography captures the imaginative, timelessly endearing qualities of Christie's life and work, even attempting to define the ineffable durability of her books (despite the fact that they are constantly decried as being dated, xenophobic, racist and unrealistic, Christie is still the bestselling author after the Bible and Shakespeare). However, the great emphasis on her relationships with her husbands and her daughter - not just the facts but speculation as to feelings, chapters which hung on quotes from old love letters made it a very... feminine biography. Even taking into account that the focus of the book was admittedly her 11 day disappearance in 1926, Laura Thompson brought her own view of what mattered in the author's life very much to bear; which, while valid and making for great insight into those areas, doesn't really cover the whole purview of the biographer. Personally, I would have liked a little more on Christie's childhood, schooling, what she herself read for enjoyment and thought of other authors... it's not usual to find a book about an author that doesn't at least briefly examine her bookshelves. There's something gossipy about a biography that digs intently at the questions of how many affairs either husband might have had, and for how long, since when, and did Agatha know, particularly when the biographer herself makes it clear that Christie would have hated having her private life deconstructed thus.Yet the biography is very accessibly written, and Thompson certainly pays due and satisfying attention to Christie's books and characters... the quotes from books that highlight or refer to Agatha's own life are interesting and her literary criticism is sound; she is also sure to present every angle where only rumour and speculation remain to shape an event.On the whole, I enjoyed this biography but some parts left me feeling slightly mucky, as though I'd gossiped about a dear friend who would have been upset to think her motives, weaknesses and affections were on public display.Her own autobiography might have glossed over much unpleasantness in her life, but if anyone has the right to a mystery or two, it's surely Agatha Christie.
Review by JeffreyMarks
16/06/2015
Good biography though a bit flowery at times. The insightful comments are sometimes lost in the myriad quotes used from the Christie texts.