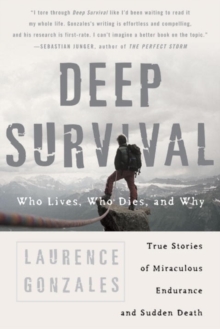 Deep Survival : Who Lives, Who Dies and Why
Paperback
Description
In ?Deep Survival?, Laurence Gonzalez combines hard science and powerful storytelling to illustrate the mysteries of survival, whether in the wilderness or in meeting any of life's great challenges.
This gripping narrative, the first book to describe the art and science of survival, will change the way you see the world.
Everyone has a mountain to climb. Everyone has a wilderness inside.
Free Home Delivery
on all orders
Pick up orders
from local bookshops
Reviews
Showing 1 - 5 of 19 reviews.
Previous | Next
Review by markmobley
16/06/2015
This book was a revelation to me. I chose it because I saw a "Buy 2 and Get 1 Free" sign and it looked interesting. That was the understatement of the year.I did most of the reading in the Starbucks of NYC and was so amazed at the insights that I decided to read this book once per year for the rest of my life.It masquerades as a book about survival situations, but in truth it delves in to the recesses of the mind and spirit. Gonzales has lived this book from the day he was born. He has been driven by the specter of the coolest living father to drive himself beyond all limits. In finding the limits, he has brought back information that the rest of us can use to live in a much more mundane world.He freely quotes ancient sources, from Stoic philosphers to biblical authors. But the context is never dogma, only living interpretation. It reveals so much of why you have felt the way you have felt and reacted the way you have reacted. Not only that, it lays out a roadmap for understanding and mastering your physiological and psychological reactions, bringing you to the top of your game.I am not sure if Gonzales could top it. It is his Magnum Opus.
Review by rcgibson
16/06/2015
Case studies of what people do when confronted with a life or death situation. Even if you're not an adventurer, it's still fascinating reading. One of those books that should be required reading in every middle school.
Review by colinsky
16/06/2015
This is a fun read. Interesting stories of survival, the main theme being an attempt to define the difference between those who make it and those who don't.
Picked up this one on a lark - love adventure/survival stories. Could NOT put it down. Chapters divided by at-risk human behavior (including group dynamics), complete index, extensive bibliography, a last chapter that is an essay that should be entitled "OK, Now What Have We Learned", and an introduction that will knock your socks completely off make up this work of "Deep Survival".
Review by khuggard
16/06/2015
This is an interesting but inadequately executed book. Deep Survival attempts to answer the question "what makes people survivors?". To do so, Gonzales presents us with stories of survival glued together by scientific and psychological research. The stories are fascinating; the scientific glue is not. That's not to say there aren't interesting tidbits found in the scientific explanations, but overall Gonzales does a poor job of relating his facts to his stories. The overall technique ends up being a little bit jumpy and hard to follow as he tells a little bit of story, explores some science, gets back to the story, interjects another story, explores some more science and finally gets back to the original story. I also felt that Gonzales interjected his own experiences too much. He seemed to want to relate to every dramatic survival experience he related. He does share one relevant story about getting lost on a hike. But most of his personal relationships to the overall theme seem contrived and after so many of them he comes off as a little egotistical. I did finish this book because like I said the adventure stories were fascinating and I knew that if I could get through the long-winded but somehow inadequate explanations, I would get to another one.