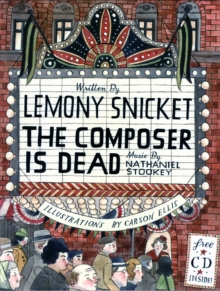 The Composer is Dead
Hardback
Description
There's dreadful news from the symphony hall-the composer is dead! If you have ever heard an orchestra play, then you know that musicians are most certainly guilty of something.
Where exactly were the violins on the night in question?
Did anyone see the harp? Is the trumpet protesting a bit too boisterously? In this perplexing murder mystery, everyone seems to have a motive, everyone has an alibi, and nearly everyone is a musical instrument.
But the composer is still dead. Perhaps you can solve the crime yourself. Join the Inspector as he interrogates all the unusual suspects.
Then listen to the accompanying audio recording featuring Lemony Snicket and the music of Nathaniel Stookey performed by the San Francisco Symphony.
Hear for yourself exactly what took place on that fateful, well-orchestrated evening.
Information
Format: Hardback
Pages: 40 pages, full-colour
Publisher: HarperCollins Publishers Inc
Publication Date: 01/03/2009
Category: Picture books
ISBN: 9780061236273
Free Home Delivery
on all orders
Pick up orders
from local bookshops
Reviews
Showing 1 - 5 of 10 reviews.
Previous | Next
Review by sweetiegherkin
16/06/2015
By examining the death of a composer, a police investigator takes the reader through a tour of the musical instruments that make up an orchestra. This book is not nearly as good as the young adult novels in Lemony Snicket's A Series of Unfortunate Events, although as a book for a younger audience, The Composer is Dead has much less space to flesh out more of Snicket's talent. However, like A Series of Unfortunate Events, this book is not an inane children's story that adults will find tiresome, but a sardonically funny tale that might even be more interesting to adults than children. Nonetheless, the rhythm of the language (reminiscent of Dr. Seuss himself at times) will entertain small children, even if they don't get all of the tongue-in-cheek jokes put in by Snicket. The illustrations in this book are a bit of a let-down after those in the Series of Unfortunate Events' books, but they are fitting with the story. This book also includes a CD, which contains an audio version of the book (narrated by Snicket) and original orchestration (not by Snicket). Both of these pieces are fine gems to add to an already delightful book.
Review by Joles
16/06/2015
This book is a must for all music teachers. The CD reads through the book and offers some great examples of the instrument families. The book itself, while geared towards children, offers a laugh or two for the adults reading it.
Review by gildallie
16/06/2015
I was expecting this to be pretty spooky due to it being written by Lemony Snickett, but it turns out quite nicely. It has an 1800's feel, mainly due to the art being created to look so. The story is narrated by a Sherlock-type of detective interrogating the various sections of the orchestra about what happened to the composer, taking us on through the various attributes of the sections. In the end it turns out, no one and everyone killed the composer- because it's about all the dead composers who created wonderful music and the various orchestra's that "butchered" them. It comes with a CD of music (which I didn't get a chance to listen to) that is supposed to give samples of what the author is talking about. All is meant to help develop an interest in the orchestra and the music played by it. It is accompanied by a disk, which I was not able to listen to.
Review by kivarson
16/06/2015
This is one more jem from the mysterious and loquacious Lemony Snicket. The Composer is dead and it is up to the Inspector to find out which musician has orchestrated this event. Although I've classified this as a children's book, it is likely to be best enjoyed by adults:"The Violins answered first, of course. The violin section is divided into the First Violins, who have the trickier parts to play, and the Second Violins, who are more fun at parties."
Review by ariellamendez
16/06/2015
Genre: FantasyPoint of View: The limited third person point of view only knows as much as the inspector. This allows for the suspense to build in finding who murdered the composer. Media: Watercolor ,ink