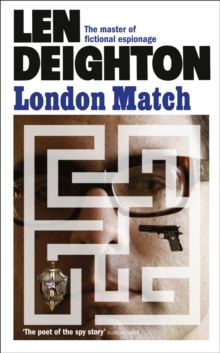 Description
Long-awaited reissue of the final part of the classic spy trilogy, GAME, SET and MATCH, when the Berlin Wall divided not just a city but a world.
The spy who's in the clear doesn't exist...Bernard Samson hoped they'd put Elvira Miller behind bars.
She said she had been stupid, but it didn't cut any ice with Bernard.
She was a KGB-trained agent and stupidity was no excuse.
There was one troubling thing about Mrs Miller's confession - something about two codewords where there should have been one.
The finger of suspicion pointed straight back to London. And that was where defector Erich Stinnes was locked up, refusing to say anything.
Bernard had got him to London; now he had to get him to talk...
Information
Format: Paperback
Pages: 448 pages
Publisher: HarperCollins Publishers
Publication Date: 24/07/1995
Category: Espionage & spy thriller
ISBN: 9780586066355
Free Home Delivery
on all orders
Pick up orders
from local bookshops
Reviews
Showing 1 - 2 of 2 reviews.
Review by mbmackay
16/06/2015
The trilogy - Berlin Game, Mexico Set, & London Match were first published in 1983 - 1985, only a generation ago, but they seem dated when read today. Apart from the obvious changes in technology - no mobile phones and no PCs - it is the smoking, the incessant drinking and the sexism that seem out of place.Deighton's writing style seems more screenplay than novel. Just as a movie is often a distillation of the original novel, these books seem spare to a fault - nothing is included that is not needed for the plot. For example, when the hero's wife defects and leaves him with the children, the kids are not meetings for the next 100-odd pages, when their existence becomes important to the plot as a bargaining point.I think that all Cold War era spy novels are inevitably compared with Le Carre books, and you can see the influence here. Deighton ties hard to be cerebral rather action-driven, but fails to be as convincing as Le Carre. But, interestingly, I found the flaws to lie in the action parts of the writing - the southeast seems comically inept, the spies drinking gallons of hard booze before, during and after field operations; the fact that there seems to be only 5 spores in MI6 etc etc.But while there are minor quibbles, I enjoyed my trip back in time with Deighton and found the books hard to put down.Read November 2013.
Review by Hanneri
27/08/2015
The final book in the Game Set & Match trilogy, in which Bernard Samson helps capture a KGB courier using information from former KGB major Erich Stinnes – whom Samson convinced to defect in the previous book. But the courier's confession implies that there is another KGB mole in London Central – which is bad news for Samson, whose loyalty has been questioned since his wife turned out to be a KGB mole herself. Now he must find out who the mole is – or if the courier is lying. Deighton delivers a very good spy yarn that makes the most of the chief problem of the espionage business: never knowing for sure just who is on whose side, and who is telling the truth. London Match gets a bit too bogged down by the domestic lives of the characters – everyone seems to be having affairs with someone else and expecting Bernard to deal with it – and it gets a little tedious for the likes of me. But the twists and turns of the espionage angle more than make up for it.