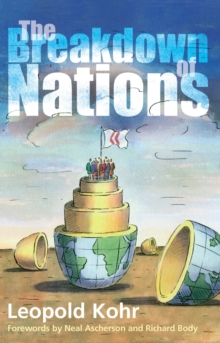 The Breakdown of Nations
Paperback
Description
In The Breakdown of Nations Leopold Kohr shows that throughout history, people who have lived in small states are happier, more peaceful, more creative and more prosperous.
He argues that virtually all our political and social problems would be greatly diminished if the world's major countries were to dissolve back into the small states from which they sprang.
Rather than making even larger political unions, in the mistaken belief that this will bring peace and security, we should minimise the aggregation of power by returning to a patchwork of small, relatively powerless states where leaders are accessible to and responsive to the people.
This new edition of The Breakdown of Nations is published at a time when Britain faces its most important political decision for hundreds of years - whether or not to join a common European currency.
Many believe that this would lead inexorably to a European sub-state, so it is timely to re-examine the implications of the size of political groupings, whether they be states nations or federations.
Free Home Delivery
on all orders
Pick up orders
from local bookshops