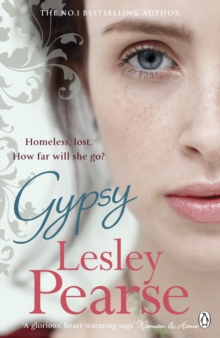 Description
Gypsy is Lesley Pearse's latest historical novel. Tragedy sent her on a journey far from home ...Fifteen-year-old Beth's life is shattered when she and her brother Sam are orphaned.
Believing that only in America can they make a fresh start, brother and sister leave Liverpool and embark on the greatest adventure of their lives. In New York, Beth's talent with the fiddle earns her the friendship of gamblers, chancers and other rogues.
Dodging trouble across America, Beth and her friends head for the Klondike river in search of gold. How far must Beth go to find happiness? And will her travels lead this gypsy to a place she can ever call home? Gypsy by Lesley Pearse - author of bestsellers Hope and Remember Me - is a historical novel of survival in a compelling nineteenth century setting.
Any fans of Susan Lewis will soon be fans of Lesley Pearse too.
Praise for Lesley Pearse: 'With characters it is impossible not to care about ...this is storytelling at its very best' Daily Mail 'Lose yourself in this epic saga' Bella 'An emotional and moving epic you won't forget in a hurry' Woman's Weekly Find Lesley on Twitter @LesleyPearse or find out more her website, www.lesleypearse.co.uk.
Information
Format: Paperback
Pages: 544 pages
Publisher: Penguin Books Ltd
Publication Date: 14/05/2009
Category: Sagas
ISBN: 9780141030494
Free Home Delivery
on all orders
Pick up orders
from local bookshops
Reviews
Showing 1 - 2 of 2 reviews.
Review by gogglemiss
16/06/2015
Good story, but uneven. Overall I liked it. 
Review by ComaCalm
16/06/2015
When teenagers Beth and Sam Bolton are orphaned, their baby sister is taken into a new home, so they decide to set sail for a new life too...in America. On board the steamer to New York, Beth and Sam meet charismatic gambler Theo, and quick-witted Londoner Jack, and the four band together to seek their fortunes. Beth has always dreamed of playing her fiddle to large audiences...and finds herself doing so in the saloons, where she is a huge success and lovingly nicknamed Gypsy by her fans. But the foursome fall foul of local gangsters and flee to Canada, as word gets out that gold has been found in the Klondike. They embark on a dangerous and epic journey to reach the Yukon valley, trailing across snowy mountains and treacherous rapids. Who will break first?This book is slow going to begin with (and depressing) but worth it once it gets going.The book follows quite a few years of Beth's life, from when her parents where alive to a few years after arrive at Klondike etc.My favourite character was Jack. He was the only one (apart from Beth) who didn't annoy me by gambling and drinking too much. Seconds favourite would be Beth and the third would have to be the crazy religious guy that shows up three quarters of the way through.It does get quite kinky in places, just so you all know! I really enjoyed this book though. I had only ever briefly heard of the Gold Rush and had no idea of what year it was or anything, so I liked this book for the history lesson too. I can now paint an accurate picture in my mind!