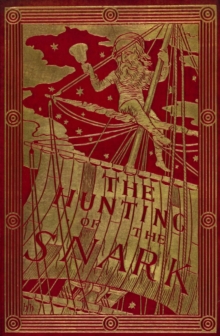 The Hunting of the Snark : An Agony in Eight Fits
Hardback
Description
The peculiar wit and imagination of Lewis Carroll are once again in evidence in The Hunting of the Snark, his epic nonsense poem which first appeared in 1876.
Unlike the earlier Alice books, this is a much darker work, in which ten characters whose names begin with B, disappear, go mad and generally find themselves struggling to navigate an impossible path through a nonsensical world.
Throughout the poem there is a prevailing atmosphere of disorder and chaos, heightened by Carroll's characteristic use of 'portmanteau' words (such as 'uffish', 'beamish' and 'fumious') and descriptions of grotesque creatures such as the Bandersnatch and the Jubjub bird.
The meaning of the poem, and of the Snark itself, has been the subject of much debate.
In his preface Carroll said 'In answer to your question, 'What did you mean the Snark was?' will you tell your friend that I meant that the Snark was a Boojum.
I trust that she and you will now feel quite satisfied and happy.' Whatever its meaning, The Hunting of the Snark remains a fascinating read. This new edition is a facsimile of the 1876 original, with reproductions of the original illustrations by Henry Holiday and is bound in red cloth with luxury gold embossing.
Information
Format: Hardback
Pages: 100 pages, 9 black and white illustrations
Publisher: The British Library Publishing Division
Publication Date: 20/01/2011
ISBN: 9780712358132
Free Home Delivery
on all orders
Pick up orders
from local bookshops