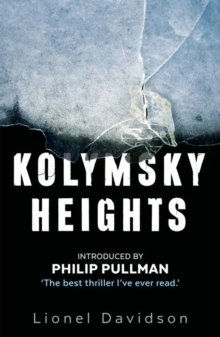 Kolymsky Heights
Paperback
Description
"The best thriller I've ever read." (Philip Pullman).
With an introduction by Philip Pullman Kolymsky Heights.
A frozen Siberian hell lost in endless night. The perfect location for an underground Russian research station.
It's a place so secret it doesn't officially exist; once there, the scientists are forbidden to leave.
But one scientist is desperate to get a message to the outside world.
So desperate, he sends a plea across the wilderness to the West in order to summon the one man alive who can achieve the impossible..."Sensationally good.
Cleverly conceived and brilliantly executed. One of the great thrillers of the last century." (Charles Cumming). "Hugely thrilling, brilliantly written, perfect for the beach.
Like all the best holidays, I didn't want this book to end." (Anthony Horowitz, Telegraph).
Information
Format: Paperback
Pages: 496 pages
Publisher: Faber & Faber
Publication Date: 18/03/2015
Category: Thriller / suspense
ISBN: 9780571324217
Free Home Delivery
on all orders
Pick up orders
from local bookshops
Reviews
Showing 1 - 2 of 2 reviews.
Review by atticusfinch1048
27/08/2015
Kolymsky Heights – A Masterpiece of a ThrillerKolymsky Heights from the late Lionel Davidson has just been re-released by Faber & Faber with an introduction from Philip Pullman with the testimonial that it was "The best thriller I've ever read." I thought that this was a very big statement and would I be let down by the boast, and to be honest I think he undersold it! As someone who has enjoyed reading classic adventure thrillers from the inter war period of the 20s and 30s it reminded me very much of that excellent but long forgotten genre. Kolymsky Heights is an adventure, with spy –espionage wrapped up in a thriller out in the frozen tundra of Siberia.Once you have read Kolymsky Heights it is easy to see why Lionel Davidson won the Crime Writers Association's Gold Dagger Award three times. How he managed to get the research about some of the most isolated places on earth that Russia does not allow foreigners unless they are sentenced there. The isolation of Siberia the darkness of winter, and the harshness of the place seeps through the pages the imagery the writing brings is absolutely fantastic.The hero of Kolymsky Heights is Dr Johnny Porter who is a Gitxsan Indian, a Canadian professor of anthropology who has mastered the languages and dialects of the various tribes of Northern Canada, Alaska and Siberia, as well as Korean, Russian and Japanese. I struggle with English and my bar French and German! Johnny Porter is super intelligent and is required for a delicate mission that would require him to enter Siberia somehow get out on his own and at the same time gather some intelligence on a "Weather Station" and research station in the middle of a closed area that the Security Services protected. All this requested by a Russian scientist, Rogachev, who had met Johnny many years before at a conference at Oxford University. The CIA's interest and training would eventually deliver Johnny in to Siberia but then he would be alone.We see how he is trained as a Korean sailor on a Japanese tramp boat that will sail to the arctic north, the last ship through before it freezes over get off and somehow go to work in his Siberian adventure. How he is able to gain entry to Siberia how he survives and completes his mission is pure adventure while his potential escape is the thriller how he has to keep in front of the Russian Security Service. He knows they will hunt him down like a rabbit and they will not stop until they have him, he knows he is alone and must use his wits to survive.Lionel Davidson produced an excellent book with Kolymsky Heights and it is unfortunate that we will never get a sequel but this is a pure pleasure to read. It is a page turner in the classic style and Davidson is a wonderful storyteller that can make you believe whatever he wrote on a page.
Review by Eyejaybee
27/08/2015
There has been terrific hype about this novel recently, which is unusual for a book published more than twenty years ago. Various authors whose own works I have read and enjoyed, such as Philip Pullman and Charles Cumming, have been quoted as citing it as one of the finest thrillers they have ever read. Having just tried to read it myself I am left wondering whether they were talking about some other book, because it is difficult to reconcile their views with mine.To be fair, it did start rather well (at least, if one sets aside the rather laboured, scene-setting prologue). A series of coded messages are sent to Professor Lazenby, an ageing Oxford academic specialising in some of the more esoteric aspects of biology. In fact, the first message is sent in such a convoluted manner that Professor Lazenby never receives it. The second is identified as such, and eventually decoded, though Lazenby is initially mystified as to the sender. Gradually, however, he calls to mind an encounter at an academic conference some years previously with a Soviet counterpart and a young Native American who turned out to be a dynamic prodigy in both linguistics and anthropology. It transpires that the messages are indeed seeking to engage the Native American, inviting, or even exhorting him, to make his way to an ultra-secret Soviet base in the depths of Siberia where strange things, including the development of a quasi-Neanderthal race, are happening.It does, however, soon sink into farce. The young man, known as Johnny Porter, is certainly out of the ordinary, though as the novel progresses he evolves into something virtually superhuman. Not only does he seem to have mastered English, a plethora of Native American languages and dialects, Russian, Japanese, Korea and every dialectic variance of all of those languages, he is a master of disguise and also manages to build a jeep by hand on his own in a cave by the Kolyma River. It was at that stage that I gave up. I know that one should be able to suspend disbelief now and again, and to grant a degree of licence to the novelist, but there are limits. My disbelief would have had to have been utterly moribund in order to persist with this book.