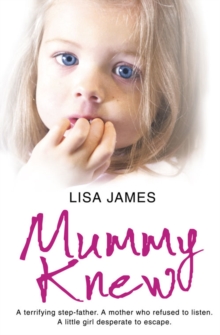 Mummy Knew: A terrifying step-father. A mother who wouldn't listen. The little girl who had to escape
Paperback
Description
Four-year-old Lisa's world turned upside down when her step-father moved in.
Most of the time he was just violent but then he started making her do things she knew were wrong.
Soon he was visiting her at night. Lisa begged her mother for help but she just shrugged, telling Lisa he would have his way.
It was the greatest betrayal of all. At first Lisa's step-father would just make her stroke and massage his feet, hitting her if she stopped, but he soon wanted more.
Much more. By the time she was 12 he was regularly abusing her.
One day, when Lisa turned 16, she came home to discover that her mother had swapped bedrooms with her. 'You're my girlfriend now', her step-father told her.
Lisa turned to her mother for help, but was met with a shrug.
She wouldn't hear a word against her husband. 'Don't blame me,' she said. Her step-father's abuse was horrific but what completely tore her apart was knowing her mother knew and encouraged it.
Trapped and increasingly desperate, Lisa tried to find a way out.
But her isolation was complete. Several months later her mother told her she'd arranged for Lisa and her step-father to move into a flat together down the road. It was too much for Lisa to bear. 'Please don't make me, please,' she sobbed. But her mother just ignored her. Lisa was marched around to the flat with her possessions and her nightmare was complete.
Alone with her step-father, Lisa's life became even more unbearable.
Then one day, finally, she got the chance she'd been looking for to escape.
Lisa bravely struck out on her own, petrified her mother would find her and hand her back into the waiting arms of her step-father.
But Lisa's mother had no idea how determined she was to break away...
Information
Format: Paperback
Pages: 320 pages
Publisher: HarperCollins Publishers
Publication Date: 03/09/2009
Category: Memoirs
ISBN: 9780007325160
Free Home Delivery
on all orders
Pick up orders
from local bookshops
Reviews
Showing 1 - 1 of 1 reviews.
Review by criticscircle
16/06/2015
Mummy Knew: Non-Fiction Book of the Year 2009Traipsing a jaded gaze over the year's literary offerings, one invariably keeps nose and ears to the ground for the faint pulse of anything that may turn out to be a little special. This year's big surprise is 'Mummy Knew'. Penned in her own words by debut writer Lisa James, this wonderful gem effortlessly sweeps aside the myriad tired 'bestseller' titles I've laboured through over the last 12 months. And don't be fooled by the strapline. This is no misery memoir. An absorbing, well-crafted narrative tears at your heart but in the author's voice one discerns a Blitz-esque valour which does not court pity. Instead she affirms the indomitable human spirit can traverse Hell and still come through unscathed, whole, unfettered by any stigma of being 'damaged'. That anyone could emerge from the violent emotional tourniquet which passed for her childhood and still know how to smile is astounding and humbling in equal measure.James casts an inspirational, gladiatorial figure who when cruelly beaten to the ground simply keeps on getting up. There is fire in her heart, a desire for life and dignity. The direct power of her writing forges a connection with the reader who becomes emboldened to feel that no test is beyond endurance.One is drawn breathlessly through 320 pages of spellbinding recollection and knife-edge drama tenser than your last good thriller. James grabs your attention and doesn't let go. Her style is accessible, candid, unaffected, charmingly engaging. She offers a sharp eye for detail, subtle incisive wit and an adroit sophistication one would not expect from someone denied any tangible education. Her ability to transport you intimately into the mind of her inner child is deeply moving. You will share tears of distress, random flourishes of lightness in the stormy night, the gathering hope for a better life.If the high purpose of literature is to enhance our understanding of the human condition, then James is truly triumphant. I walk away shaken, drenched in empathy. The hammer-blow central message about the sanctity of childhood from this mother of six will not be easily forgotten. Hopefully it will change lives."Mummy Knew" is a brilliant book. A rare read which gripped me from first to last page. A new benchmark nonpareil for the genre. If there is one book you read this year, make it this one. I can only wait patiently for more offerings from this talented new rising star.