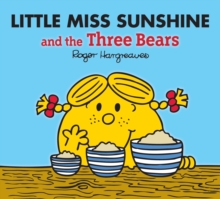 Little Miss Sunshine and the Three Bears
Paperback
Description
When Little Miss Sunshine gets caught in a storm one day, she finds shelter from the rain in a cottage in the woods.
There she meets three bears who ask her to look after their porridge while they go for a walk.
But she has some unexpected visitors while they are out.
Will they behave as well as Little Miss Sunshine? The Mr Men and Little Miss Magic series takes kids on a series of sparkling adventures where they meet some extraordinary characters including a dragon, an ogre, a mermaid, a princess, a fairy, pirates and many others.
These colourful adventures will delight children of two years and upwards.
Bold illustrations and funny stories make Mr Men and Little Miss the perfect story time experience.
Have you collected all the Little Men and Little Miss Magic?Mr Jelly and the Pirates Little Miss Sunshine and the Wicked Witch Mr Tickle and the Dragon Little Miss Naughty and the Good Fairy Mr Strong and the Ogre Little Miss Trouble and the Mermaid Little Miss Lucky and the Naughty Pixies Mr Noisy and the Giant Little Miss Splendid and the Princess Mr Happy and the Wizard Little Miss Stubborn and the Unicorn Mr Nosey and the Beanstalk Mr Bump and the Knight Little Miss Shy and the Fairy Godmother Mr Greedy and the Gingerbread Man The Three Little Misses and the Big Bad Wolf Mr Funny and the Magic Lamp Little Miss Chatterbox and the Frog Prince It all started with a tickle.
Roger Hargreaves' son Adam asked him what a tickle looked like.
In response, Roger drew a small orange man with extraordinarily long arms that could reach anywhere and tickle anyone.
Mr Tickle, the first of the Mr Men, was born. Mr Tickle was soon joined by Mr Greedy, Mr Happy, Mr Nosey, Mr Sneeze and Mr Bump.
The books were an instant hit and Roger went on to create many more Mr Men and Little Miss characters.
What Roger really wanted was to make children laugh, which is probably why his own favourite character is Mr Silly.
Free Home Delivery
on all orders
Pick up orders
from local bookshops
Also in the Mr. Men & Little Miss Magic series | View all