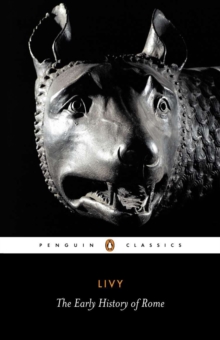 The Early History Of Rome,
Paperback
Description
Livy (c. 59 BC-AD 17) dedicated most of his life to writing some 142 volumes of history, the first five of which comprise The Early History of Rome.
With stylistic brilliance, he chronicles nearly 400 years of history, from the founding of Rome (traditionally dated to 757 BC) to the Gallic invasion in 386 BC - an era which witnessed the reign of seven kings, the establishment of the Republic, civil strife and brutal conflict.
Bringing compelling characters to life, and re-presenting familiar tales - including the tragedy of Coriolanus and the story of Romulus and Remus - The Early History is a truly epic work, and a passionate warning that Rome should learn from its history.
Information
Format: Paperback
Pages: 496 pages
Publisher: Penguin Books Ltd
Publication Date: 28/03/2002
Category: European history
ISBN: 9780140448092
Free Home Delivery
on all orders
Pick up orders
from local bookshops
Reviews
Showing 1 - 3 of 3 reviews.
Review by stipe168
16/06/2015
scanned through for a history of rome class.. very exciting work, can be read rapidly.
Review by philae_02
16/06/2015
Livy's History depicts the founding of Rome (before it was a Republic) and the legends that the city was founded on. Livy provides a very fun illustration of the early kings of Rome, which leads to it becoming a Republic.
Review by Marse
16/06/2015
Livy's "The Early History of Rome" is a fascinating book. I'm not too familiar with ancient history, but I have heard of the rape of Lucrezia, and knew that the name Virginia had something to do with Roman history, so it was nice to finally read the actual details (such as they are) about these people. Reading about the constant wars with Rome's neighbors gets a little tedious, but then that's what life was like then. Livy also sometimes throws in a little story that while not really part of Roman history, are interesting just as a glimpse of life. For example he tells of a vestal virgin brought up on some kind of sexual charge, who was acquitted with the stern warning to "dress less elegantly" and to "stop telling jokes."