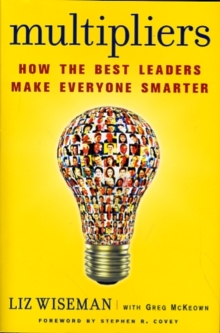 Multipliers : How the Best Leaders Make Everyone Smarter
Hardback
Description
Elizabeth Wiseman spent 17 years at Oracle working as a vice president alongside incredibly intelligent executives, affording her an inside perch from which she could observe how they used their individual capabilities in very different ways.
Some leaders needed to be the smartest person in the room so they frequently overshadowed colleagues, killed ideas, and destroyed energy.
Others used their intelligence to amplify the creativity and capabilities of the people around them - to help make everyone a genius.
Witnessing this fascinating pattern, Wiseman and Greg McKeown launched a research project that involved interviews with more than 100 executives and their employees to uncover the differences between these two distinctive styles of leadership - what they call the Diminishers and the Multipliers. Using insightful, real-life examples, "Multipliers" defines and contrasts each style and lays out five key disciplines that can help managers avoid the Diminisher trap and become Multipliers: Create the Work Climate - Be The Teacher not The Tyrant; Set Direction - Be The Challenger not The Director; Manage Talent - Be The Talent Scout not The Empire Builder; Make Decisions - Be The Debate Maker not The Decision Maker; and, Deliver Results - Be The Teacher not The Micromanager.
By applying these disciplines, current and aspiring managers will learn how to think and operate like Multipliers, and, in doing so, create genius everywhere, make employees smarter and more capable, and drive their teams to extraordinary performance.
Information
Format: Hardback
Pages: 288 pages, Illustrations
Publisher: HarperCollins Publishers Inc
Publication Date: 01/07/2010
Category: Management: leadership & motivation
ISBN: 9780061964398
Free Home Delivery
on all orders
Pick up orders
from local bookshops
Reviews
Showing 1 - 2 of 2 reviews.
Review by bookworx
16/06/2015
A well put assessment of nature vs. nurture in the Manager-sphere. Solid research that leaves you feeling hopeful that humanism has a seat at the head of the table. As I read it I was compelled to replace Multiplier & Diminisher with kindhearted/mean spirited, happy/sad or empathetic/selfish with the same result. I hope her next book will deconstruct the "unbreakable colleague."
Review by DavidShellhamer
16/06/2015
A practical, worthy read for managers who want to be leaders. Thought provoking and insightful. Having done lots of business readings, their research did not strike me as particularly new or earth shattering. It is a cautionary tale against our tendency to become a micromanager repackaged and reframed in a multiplier vs diminisher continuum. However, it gave some good insight and I was able to recognize that I have some accidental diminishing traits. I appreciated the concrete examples of what multipliers do differently and actual actions to obtain those goals. Don't miss the FAQs at the end where the authors answer some tough questions about their research and ideas. Two brief critiques: 1 It seemed redundant at times. I think the 235 pages could have been reduced by a third, without eliminating any content or ideas. 2. Examples are heavy with high level executives from technology and biotech industries. On how to be a multiplier if you are managing minimum wage service workers whose jobs are more task orientated and physical (which make up a significant portion of our "new economy") the book is strangely silent.