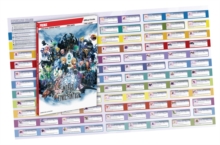 World of Final Fantasy
Paperback
Description
World of Final Fantasy is a role-playing game that has a new take on many familiar systems, elements, and characters from many of the classic games in the Final Fantasy series.
The game is focused on twin siblings who suffer from amnesia and travel the land of Grimoire (a home to many Final Fantasy heroes and enemies).
The twins can capture the indigenous monsters and use their powers to support their own. Exclusive Double-Sided Poster! Only in this guide, a fullcolor 37.25" x 22.75" double-sided poster.
Complete Walkthrough: Covers all the areas in the world of Grimoire. Area Maps: Guide you through all the locations and illustrate important details. Strategy and Tactics: Use your monster friends well and achieve synergies with attacks, defense, and abilities. Collect and Befriend Monsters: A guide to traveling the world to collect, level, and evolve your monster friends. Free Mobile-Friendly eGuide: Includes a code to access the eGuide, a web-access version of the complete guide optimized for a second-screen experience.
Free Home Delivery
on all orders
Pick up orders
from local bookshops