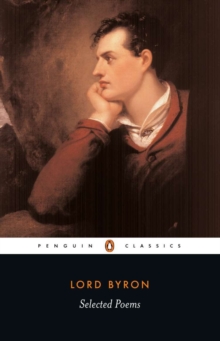 Description
Described as 'Mad, bad and dangerous to know' by one of his lovers, Lady Caroline Lamb, Lord Byron was the quintessential Romantic.
Flamboyant, charismatic and brilliant, he remains almost as notorious for his life - as a political revolutionary, sexual adventurer and traveller - as he does for his literary work.
Yet he produced some of the most daring and exuberant poetry of the Romantic age, from 'To Caroline' and 'To Woman' to the satirical English Bards and Scotch Reviewers, his exotic Eastern tales and the colourful narrative of Childe Harold's Pilgrimage, the work that made him famous overnight and gave birth to the idea of the brooding Byronic hero.
Free Home Delivery
on all orders
Pick up orders
from local bookshops
Reviews
Showing 1 - 2 of 2 reviews.
Review by jwhenderson
16/06/2015
It seems appropriate to briefly meditate upon the poetry of Lord Byron on any date including this, his birth date. In particular I turn to his poem 'On this Day I complete my Thirty-Sixth Year'. This poem appeals to me neither for the greatness of its lines nor the acuity of its poetic strains, but for the beauty and sadness of its meditative thought. The opening stanza, for example:"'Tis time this heart should be unmoved,Since others it hath ceased to move:Yet, though I cannot be beloved,Still let me love!"Byron's passion for his young Greek page, however unrequited, reminds me of similar feelings shared by so many of us in the ensuing years. He goes on to recount the fear of aging and the pain of his longing among other feelings. I wonder if he would have traded a few more years of such feelings for the few months that remained in his brief life?
Review by gbsallery
16/06/2015
A marvellous tome. Substantial (if not comprehensive), there's enough of Byron's work here to satisfy almost any taste. From scurrilous and subversive to majestic and epic, Byron's poetry is at times arrogant - however this arrogance is based on a very real talent. Delightful.
Also by Lord George Gordon Byron | View all