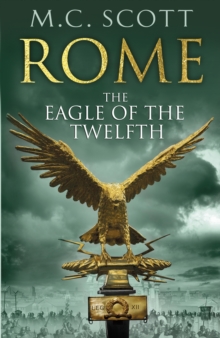 The Eagle of the Twelfth
Hardback
Part of the Rome series
Description
They are known as the Legion of the Damned...Throughout the Roman Army, the Twelfth Legion is notorious for its ill fortune.
It faces the harshest of postings, the toughest of campaigns, the most vicious of opponents.
For one young man, Demalion of Macedon, joining it will be a baptism of fire. And yet, amid all of the violence and savagery of his life as a legionary, he realizes he has discovered a vocation - as a soldier and a leader of men.
He has come to love the Twelfth and all the bloody-minded, dark-hearted soldiers he calls his brothers.
But just when he has found a place in the world, all that he cares about is ripped from him.
During the brutal Judaean campaign, the Hebrew army inflict defeat upon the legion - not only decimating their ranks, but taking away their soul, the eagle.
There is one final chance to save the legion's honour - to steal back the eagle.
To do that, Demalion and his legionaries must go undercover into Jerusalem, into the very heart of their enemy - where discovery will mean the worst of deaths - if they are to recover their pride. And that, in itself, is a task worthy only of heroes.
Information
Format: Hardback
Pages: 400 pages
Publisher: Transworld Publishers Ltd
Publication Date: 24/05/2012
Category: Historical fiction
ISBN: 9780593065440
Free Home Delivery
on all orders
Pick up orders
from local bookshops
Reviews
Showing 1 - 1 of 1 reviews.
Review by janerawoof
27/08/2015
Third in M.C. Scott's four novels in her <I>Rome</I> series with Pantera the spy as protagonist. In this departure from the others, in the hero is the young unwilling conscript, Demalion of Macedon, telling us his story of the last five years in the unlucky XII Legion : his basic training, bonding with the others in his <I>contubernium</I>, winter survival exercises against another legion to toughen the men. There are exciting heart-stopping battles and skirmishes against Parthians and against Jewish rebels in Judaea. The rebels steal the Eagle and Demalion, along with Pantera and others are charged to recover it. We see Demalion grow from raw recruit into experienced, blooded veteran and leader. The legion regains its honor. Out of the whole series, I consider this volume easily the best. I could not relate to Pantera; he seemed like an unbelievable superhero, often unpleasant and I feel he was present only to further the action. The well-drawn Demalion touched me with his emotions and deep feelings. Writing was superb. The small amount of m/m romance was tastefully done. Especially poignant was the incident of one soldier's death and his comrades parceling out his possessions, thereby each man remembering him.Highly recommended.