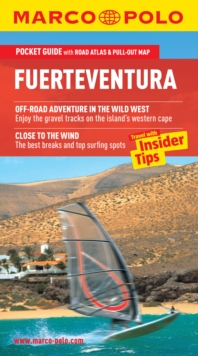 Fuerteventura Marco Polo Pocket Guide
Mixed media product
Description
MARCO POLOFuerteventura: the Travel Guide with Insider Tips With this up-to-date, authoritative guide you can experience all the sights,discover hotels, restaurants, trendy spots, festivals and events, sport andactivities.
The guide comes with Insider Tips, Low Budget tips, shopping ideas,a large road atlas and removable pull-out map.
There are also Best Of tips onwhat's unique to Fuerteventura, great places for free, where to relax and chillout and what to do if it's too hot.
Also contains: Travel Tips, Useful Phrasesin Spanish, Travel with Kids and index.
The Perfect Tour brings all thehighlights of the island together.
Sun, sand and sea are the main players representing Fuerteventura.
Endlessbeaches in the south and white dunes in the north shaped by the gentle passatwind attract hordes of sun worshippers and water lovers.
But the barrenness ofthe landscape, to a great extent devoid of people, is fascinating in itself,and its gently rounded summits, volcanic cones and black lava fields have alsofound their aficionados. MARCO POLO Fuerteventura takes you round the second largest island in theCanaries which, with its small, ancient settlements, isn't going to appeal tothose seeking a cultural holiday or who like wandering round towns.
Thispractical guide book, small enough to slip into your pocket, shows the bestplaces to find peace and quiet and relaxing sport on this scenicallyfascinating island. Or where you can simply listen to the waves breaking on thebeach.
The Insider Tips tell you where you can have great fun camel riding and takeyou to Mama Rumba in Puerto del Rosario which indulges in an outbreak of Latinfever every Saturday.
The Low Budget tips in each chapter tell you how you canexperience a great deal with very little money, enjoy something special andsnap up some real bargains.
The Trips & Tours take you through the land ofthe Majoreros to the north through lava rubble and dunes, to the sacred TindayaMountain, or through the mountains to the most important places in the CanaryIslands as far as culture and history are concerned.
In, under and on the water Fuerteventura is an island for water sports fans.Snorkelers, divers and above all surfers will have the time of their liveshere. But in the Sport and activities chapter you ll also find numerouslocations for those who'd rather be on terra firma, such as bikers and motorcyclists as well as horse riders.
The Dos and Don'ts advise you know why youshouldn't bathe on the west coast, and should recognize the principle Firstcome, first served.
MARCO POLO Fuerteventura gives comprehensive coverage of the island s northern,central and southern regions.
To help you find your way around there s adetailed road atlas, removable pull-out map and practical map inside the backcover, with a layout of the Canary Islands.
Information
Format: Mixed media product
Pages: 136 pages, Illustrations, maps
Publisher: MAIRDUMONT GmbH & Co. KG
Publication Date: 16/01/2013
Category: Travel & holiday guides
ISBN: 9783829707145
Free Home Delivery
on all orders
Pick up orders
from local bookshops
Also in the Marco Polo Travel Guides series | View all