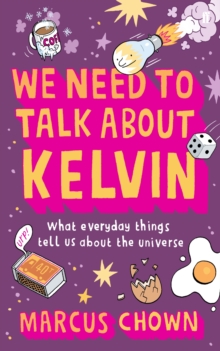 We Need to Talk About Kelvin : What Everyday Things Tell Us About the Universe
Hardback
Description
Look around you. The reflection of your face in a window tells you that the universe is orchestrated by chance.
The iron in a spot of blood on your finger tells you that somewhere out in space there is furnace at a temperature of 4.5 billion degrees.
Your TV tells you that the universe had a beginning.
In fact, your very existence tells you that this may not be the only universe but merely one among an infinity of others, stacked like the pages of a never-ending book.
Marcus Chown, author of "Quantum Theory Cannot Hurt You", takes familiar features of the world we know and shows how they can be used to explain profound truths about the ultimate nature of reality.
His new book will change the way you see the world: with Chown as your guide, cutting-edge science is made clear and meaningful by a falling leaf, or a rose, or a starry night sky.
Information
Format: Hardback
Pages: 208 pages
Publisher: Faber & Faber
Publication Date: 15/10/2009
Category: Popular science
ISBN: 9780571244010
Free Home Delivery
on all orders
Pick up orders
from local bookshops
Reviews
Showing 1 - 2 of 2 reviews.
Review by gaskella
16/06/2015
If you read my blog, you can read a Q&A with the author of this book on 09/12/09. Here, I shall talk about the book, which I'm going to call WNTTAK from now on, in which he seeks to explain some very complex quantum physics by looking at its effects in objects around us. Gosh, it all came flooding back to me! I did several terms of this at university with all the equations, and although it was interesting, it was difficult to how it applied to my subject (materials science), let alone normal life. This is where WNTTAK is onto a winner - there are no equations. Let me repeat that - there are no equations! Instead, Chown uses illustrations of quantum physics at work in the real world to explain "why the reflection of your face in a window tells you that the universe is orchestrated by chance" and how static buzz picked up by your TV set emanates from the beginning of the universe amongst other stories. Interspersed with this are tales of the key scientists involved which help to lighten and put some personality into what could otherwise be a rather dry subject. It is split into three sections: What the everyday world is telling you about atoms, stars and then the universe, starting small and ending up very big indeed.I found it an insightful overview of a difficult subject, written in a clear and accessible way that will satisfy science enthusiasts. I would also heartily recommend it to sixth-form physics and chemistry students.
Review by Helen.Callaghan
16/06/2015
Advanced scientific and quantum concepts explained beautifully. Really enjoyed it and found it very helpful.