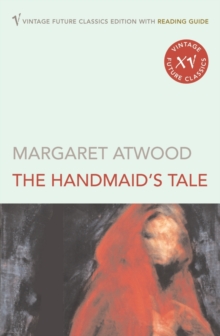 The Handmaid's Tale
Paperback
Description
The Republic of Gilead offers Offred only one function: to breed .
If she deviates, she will, like dissenters, be hanged at the wall or sent out to die slowly of radiation sickness.
But even a repressive state cannot obliterate desire - neither Offred's nor that of the two men on which her future hangs...
Information
Format: Paperback
Pages: 336 pages
Publisher: Vintage Publishing
Publication Date: 01/09/2005
ISBN: 9780099496953
Free Home Delivery
on all orders
Pick up orders
from local bookshops
Reviews
Showing 1 - 5 of 6 reviews.
Previous | Next
Review by Thelkaen
16/06/2015
This is a book I consider amongst my all time favourites. Though I never felt anything similar to anything else she wrote up to this point and haven't read any novels she has since written. All of her previous novels just left me feeling bad about being a woman. Didn't help that she wrote these while I was a very young and impressionable woman. But this one left me feeling hopeful because clearly identified society's preference to opress women more severely than men. Finally felt she'd stopped blaming the victim. But I've never been able to re-establish enough trust in her to read anything she's written since Handmaid's Tale. Guess I wanted to leave on a good note.Though I haven't had an interest in poetry in 30 years I'm finding I enjoy hers a lot. And I'm much harder to please when it comes to poetry.
Review by Ghostlove
16/06/2015
This was the first work by Margaret Atwood I read and now I'm a confirmed fan. She mixes fabulous storytelling with a very important social, political and feminist message. Recommended reading for those interested in women's studies, social politics or just looking for a great story.
Review by CarltonC
16/06/2015
I found this an excellent, disturbing dystopian vision. Whilst you may feel that dystopias had been done to death, this was a feminist take which, as others have commented, can be seen to have been reflected in fundamentalist Muslim countries today, although the story is based in a future America. The style is beautiful, which makes it all the more shocking when dealing with the subject matter.It is a book that has stayed with me.
Review by Virtual_Jo
16/06/2015
This book really did change my life. It opened up my eyes to the oppression women face and the fact that the struggle against this is ongoing, not a part of history. The story is chilling - even more so when you realise that it is based on the experiences of women in Afghanistan, transposed to a future America. A terrifying warning and a brilliant read.
Review by souloftherose
16/06/2015
I love Margaret Atwood's novels. I love the way she draws me in by slowly revealing more details of the characters and how they got into this situation. I never want to put the book down because I know that the next chapter will reveal a little bit more of the story for me.The Handmaid's Tale is set in a future American state called The Republic of Gilead. The story is told in the first person perspective by a handmaid called Offred. At the beginning of the book it's unclear why or how Gilead arose or what Offred's rule in this new society is and Atwood slowly allows Offred to reveal details of her current life mixed with flashbacks to her old life and the events leading up to her current position.Offred is a handmaid; her only function is to breed. Her name has been changed to reflect her master's name (of Fred). We never find out what her real name was. In a society where many people are infertile and only 1 in 4 babies are born without defects, Offred's role is sacred and protected but at the same time she is owned by her master and has no choice in the role she has to perform. If she deviates from this role or fails to conceive, she knows she will be classed as an unwoman and sent to the colonies with the other female dissenters to die of radiation sickness. Her only escape lies in a successful pregnancy.Another beautifully created and thought-provoking dystopian future from Margaret Atwood.