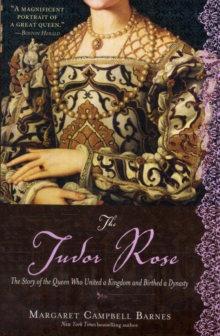 Description
Two princes battle to determine England's destiny: whoever wins will take Britain's most rightful heir as his bride and her kingdom for his own.
On one side is her uncle Richard, the last Plantagenet King, whom she fears to be the murderer of her two brothers, the would-be kings. On the other is Henry Tudor, the exiled knight. Can he save her from a horrifying marriage to a cutthroat soldier?
Thrust into the intrigue and drama of the War of the Roses, Elizabeth has a country within her grasp - if she can find the strength to unite a kingdom torn apart by a thirst for power.
A richly drawn tale of the woman who launched one of the most dramatic dynasties England has ever seen, The Tudor Rose is a vibrant, imaginative look at the power of a queen.
Information
Format: Paperback
Pages: 336 pages, diagrams
Publisher: Sourcebooks, Inc
Publication Date: 01/10/2009
Category: Historical fiction
ISBN: 9781402224683
Free Home Delivery
on all orders
Pick up orders
from local bookshops
Reviews
Showing 1 - 5 of 9 reviews.
Previous | Next
Review by jcmontgomery
16/06/2015
It is because of the Tudor dynasty I initially became aware of, and eventually fell in love with, historical fiction. I owe this primarily to Margaret George and Alison Weir in introducing me to a new way to appreciate history, even though fictionalized for entertainment's sake.However long before these two authors, there were others including Margaret Campbell Barnes. Between 1944 and 1962, she wrote ten historical novels. Many of these were bestsellers, book club selections, and translated into foreign editions. (Information courtesy of the "About the Author" section located in the edition I am reviewing.)When one hears the word "Tudor" they immediately think of its most famous member, Henry VIII and/or his daughter Elizabeth I. This story is about his mother, Elizabeth of York, a woman like any other except for one fact. She holds something very dear: a rightful claim to rule. However, in the times in which she lived, men ruled not only in government, but in all things.No matter her perceived power, in reality, she was no more than a pawn in an elaborate chess game where survivability hinged on one's ability to read the winds of change well, and out maneuver your opponents at every turn.Elizabeth proves quite capable in doing all these things, but this story isn't so much about her navigating the dangerous waters of intrigue, but of love and life itself. Although privileged, she lacks the one fundamental thing to achieving and maintain true happiness – choice.The author begins the story by allowing us to see Elizabeth as a young woman, excitedly preparing for a marriage arranged by her father, the King. Disappointment and revelation soon follow as she learns how she is merely a commodity, a political tool as well as pawn. From this she learns to face her future with a more jaded view.Yet she remains human, sensitive, intelligent – a survivor. It is through the author's development and focus of this side of Elizabeth's character that we feel empathetic and grow to care about her. She also excels in allowing the reader to see the multiple sides of a charismatic and controversial person in Elizabeth's uncle Richard. The man rumored to have ordered the deaths of the two princes in the tower: Elizabeth's beloved brothers.Henry Tudor though, is not so well developed. But this actually works well, for if the author wanted him to come off cold, calculating, and perhaps not so well understood, she succeeds.The style is elegant, but not off-putting. And even though historical fiction, I found that the detailed information provided was not so much as to take away from the story-telling. I enjoyed it immensely.If you like historical fiction as much as I do, and are especially interested in this time in English history, I recommend this highly.
Review by cathyskye
16/06/2015
First Line: A long-drawn sigh of feminine ecstasy filled the room as the white velvet was lifted from its wrappings.Not long ago, I read Philippa Gregory's tale of Elizabeth Woodville in The White Queen, so it's fitting that I now follow that up with the life of her daughter, Elizabeth of York, the first Tudor queen.Margaret Campbell Barnes turns out a well-written workmanlike tale, beginning with the young Elizabeth, newly betrothed to the Dauphin of France, taking the first look at her wedding clothes. The duplicitous French change their minds about the marriage, and the next few years have Elizabeth acting as a buffer between her siblings and their highly emotional mother.When Elizabeth's beloved father, Edward IV, dies, her education truly begins. With Edward's brother, Richard, on the throne, the young girl learns just what people are capable of when the pursuit of power is involved. She loathes Richard, blames him for all her family's misfortune, and offers herself in marriage to Henry Tudor. Elizabeth of York wants revenge.However, she's also a young female who yearns for love in her marriage. Unfortunately she finds none with Henry. Henry has had to live cautiously his entire life and now that he's on the throne, he intends to stay there. He carefully studies each gesture, each move, to make sure it's carried out to its greatest effect. He watches every penny in an effort to rebuild the depleted treasury. Marriage to Elizabeth, in Henry's practical mind, is nothing but a business transaction. As the years pass, Elizabeth learns what her husband is capable of in the pursuit of power.Elizabeth's life is all there: from her days as a young girl, through her marriage, her coronation, and her motherhood. For me, the book didn't start picking up steam until the last third of the book when Barnes let me know what she thought happened to Elizabeth's brothers, the Princes in the Tower. It's almost as if Elizabeth spent so much of her life guarding her thoughts and her reactions that it stripped most of the color from her life's story. The end result is a book that's good but not great.I've become a fan of Margaret Campbell Barnes' historical fiction, but The Tudor Rose was just a bit too bland for me. One Barnes' novel that I can recommend whole-heartedly is King's Fool which deals with Elizabeth of York's son, Henry VIII. What a contrast! Unlike his mother, I don't think Henry VIII ever had a guarded thought or desire his entire life!
Review by littlebookworm
16/06/2015
As the eldest daughter of Edward IV and wife of Henry VII, Elizabeth of York presents a link of continuity between the extravagant Yorkist rule and the more conservative Tudor dynasty. At one time, two would-be kings competed for England's crown, and with it Elizabeth's hand in marriage. The Battle of Bosworth Field changed the course of history and Elizabeth's role was in the very center of English politics. Margaret Campbell Barnes imagines how Elizabeth may have felt and reacted to her pivotal position, giving this occasionally neglected queen a voice of her own in one of the most recently popular periods in English history.I've mentioned before that the Wars of the Roses are the latest popular trend in historical fiction. I'm fairly pleased with this as it's my own area of special interest and I like to see how different fiction writers have portrayed all of these characters with whom I am so familiar. Sourcebooks' release of The Tudor Rose comes at a perfect time and despite the fact that it was written years ago, it isn't very dated. Interestingly, Barnes interprets history in ways that stray wildly from today's popular positions. For example, Henry VII's mother Margaret Beaufort, often portrayed as a tyrant who controlled her son and stifled his wife, is here a friend to Elizabeth, and Elizabeth happily allows Margaret to tend to those nasty administrative tasks that she would rather miss out on. Elizabeth herself is a charming character. She is fairly quiet and submissive but she loves deeply and she has a great deal of courage and strength. As readers, we want her to find love and happiness, because she is clearly so deserving of it.In terms of plot, The Tudor Rose follows the life of Elizabeth of York from her childhood engagement to the French dauphin to a point within a year of her death. As such, there isn't really any sort of tension; many readers will know how the story ends. It could feel slow, but it's a very pleasant journey, and a lovely imagining of the late fifteenth century. The book feels rich with detail, fine gowns and palaces, and will surely appeal to those of us who love to read about royalty. And it's always worth finding out what another author has done with the Princes in the Tower, particularly given that this book has a long enough timeline to include the revolt against Henry VII by Perkin Warbeck.In short, The Tudor Rose is a wonderful historical read and well worth curling up with for immersion into another world, if not for those who crave excitement in their books.
Review by LiterateHousewife
16/06/2015
After finishing Philippa Gregory's latest novel about Elizabeth Woodville, The White Queen, I was eager to pick up the story of Elizabeth of York, Elizabeth Woodville's daughter. Most of the Tudor fiction I have read to date focused on happenings after her death, so I didn't feel very familiar with her. The Tudor Rose focuses on Elizabeth's life just before the time of her death until well into her last pregnancy. Her life is constantly in upheaval, even while her siblings are taken into a prison-like sanctuary by their mother after Edward IV's death. She finds herself fancying a young man sent often to their sanctuary with supplies and messages, but she fears that she may never know love. She sees this for reality after it is reported that her brothers, King Eward V and Richard of Shrewsbury are announced dead. As the eldest of Edward IV's children, Elizabeth's hand in marriage is a pawn used to gain power. She uses the small influence she has to seek revenge against the man she blames for her brother's death. She never stops longing for her brothers, nor does she ever stop hoping for love.Reading novels featuring the same historical figures written by different authors in close proximity is an interesting experience. The White Queen focuses on the elder Elizabeth, but both Elizabeth's are very much a part of The Tudor Rose. Gregory paints Elizabeth Woodville with a much kinder brush than Campbell Barnes. In The Tudor Rose, Elizabeth Woodville is so ruled by her emotions that she is nearly incapable of being the brilliant schemer for which she is credited for being. While I'm certain that she had her flaws (and I enjoyed the way that Gregory brought them out) Campbell Barnes clearly subscribes to the traditionally negative view of Edward IV's wife. While I found that somewhat off-putting as a emerging fan of Elizabeth Woodville, being raised by Elizabeth Woodville most definitely had an impact on Elizabeth of York and any novel featuring her must take that into account. Campbell Barnes used her mother's reputation to flesh out her Tudor rose and I really enjoyed her character.My favorite scenes in this novel all take place after the death of the princes when Elizabeth of York is doing all that she can to discover what really happened. Using the trunk of dress up clothes in the sanctuary was an interesting way to provide Elizabeth with the means to discover information she would not have otherwise known as well as play an active and independent role in the downfall of the man responsible for what happened to her brothers. I nearly held my breath through one scene where she is trying to sneak back to her room after leaving the castle. It is during scenes like that where Campbell Barnes' writing and story telling shine.The Tudor Rose is the second book I've read and enjoyed by Margaret Campbell Barnes. The first novel I read was My Lady of Cleves. I found her storytelling to be consistent between the two. She is thorough and builds the story over time as it is less important to her than the characters themselves. Both of the women in the novels I've read lived in what could be dire circumstances. While the author does not spare them from the real pain they must have experienced, she does not torture them unnecessarily, either. I had feared for Elizabeth's relationship with Lady Margaret Beaufort, but the way that her mother-in-law was written was refreshing. While I did not tear through either novel, I found them both comforting in that I could put them down without having to worry about losing the narrative while I was away. If you love Historical Fiction or the Tudors, you cannot go wrong by picking up this book.
Review by Lila_Gustavus
16/06/2015
The subtitle to the book is The Novel of Elizabeth of York but it's really not only about her. Elizabeth is the oldest daughter of Edward IV and a sister to two brothers who were imprisoned in the Tower by their uncle Richard as he usurps the throne of England after his brother's untimely death. In the novel, the boys get murdered on the order of Richard who thinks that this will clear his way to be the ultimate ruler without any pretenders to the throne. Well, he got that wrong, since there is his niece Elizabeth and she is seen by the people of England as the legitimate Queen. Richard can't really murder her therefore he proposes a marriage, as incestuous as it is. But there is one more candidate to the throne and to Elizabeth's heart. This person is a Lancastrian, Henry Tudor. It is now up to Elizabeth to decide the fate of England and make the unthinkable decision to merge Yorks with Lancasters and give birth to a new dynasty.As with every historical novel, it is a difficult task for a writer to create something both historically accurate and captivating to an average reader. And then there comes a question of how we really deem what is true and what isn't. Every few years new facts are discovered, new theories made and so what might have been accurate fifty years ago, doesn't necessarily have to be today. Ms. Barnes wrote The Tudor Rose in 1953 and besides portraying some characters differently to what contemporary historians agree on, I think that all the major facts she really did get right. And I appreciated the fact that she breathed life into this period of history that until now was shrouded in mystery for me. I guess this is just a convoluted way of mine to say that I truly enjoyed The Tudor Rose. It brought me closer to the period of British history that just may be far more interesting than the pounded-into-our-heads-in-all-the-media Tudor era. I will admit here that I was getting slightly sick with Henry VIII, Anne Boleyn and Elizabeth I. For that reason, I read Ms. Barnes's that much more eagerly.Putting all the accuracy questions aside, The Tudor Rose is a very entertaining read. For the first time in months (I'm not exaggerating) I read a book in two days and was extremely upset when I had to stop reading because my daily life called. Ms. Barnes was a skilled writer that managed to give personality to figures who were long dead. And what complicated personalities they were. Not one person was purely good or all evil. I couldn't even bring myself to hate Richard despite his awful deed or completely admire Elizabeth despite of what she had to go through or sacrifices she made. It's just like real life; we are all a mixture of both. I think this book is definitely worth recommending especially for people who do not read historical fiction because they think it's boring, or harrowing to get through. The Tudor Rose is not. It is instead an interesting glimpse into history with action flowing smoothly until you're at the end and want to know more.
Also by Margaret Campbell Barnes | View all