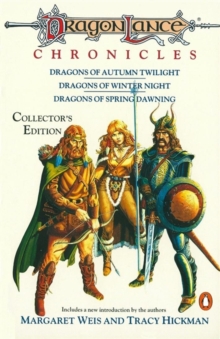 Dragonlance ChroniclesDragons Of Winter Night, Spring
Paperback
Description
More than three million readers have witnessed the return of the dragons...And now the books that began the best-selling "dragonlance" saga are collected in their entirety in this special edition, along with all of the artwork from the trilogy.
This splendid collector's edition is a must for the millions of readers who fell in love with the fantasy world of Krynn.
Information
Format: Paperback
Pages: 1056 pages
Publisher: Penguin Books Ltd
Publication Date: 17/10/1988
Category: Fantasy
ISBN: 9780140115406
Free Home Delivery
on all orders
Pick up orders
from local bookshops
Reviews
Showing 1 - 4 of 4 reviews.
Review by danbarrett
16/06/2015
Man, did I ever love these books. Seriously. I still pick them up from time to time, and they are just perfect for that high-fantasy, D&D-style good time type of read. Nice to have all the books together in this edition, as well.
Review by reading_fox
16/06/2015
The best adaption from DnD roleplaying to the written format. Captures the pace and excitment very well, particularly in the early parts, you can almost feel the saving throws being made against Raistlin's spells. Spawned a huge world of spin off writings and games. Still nothing beats the original. A group of friends, reunite after a few years exploring the world and tracing their histories. Disturbing portents abound, a stranger appears with miraculous claims and the friends offer to help. One thing leads to another and the group splits up, eventually the survivors re-unite in time to battle with an ancient god's minions to save the world - but for which side? A well crafted world with characters you can love for all their faults. Truly a gripping read.
Review by im-imagined
16/06/2015
More enjoyable for a younger reader...though a cracking good read the first time around.
Review by imyril
16/06/2015
I loved this as a D&D-playing teen, but it hasn't aged well. While there is some entertainment to be gleaned from watching somebody else's campaign play out, the prose is horrible and the characters fall flat in the face of so much tell not show. This may be a pulp classic of sorts, but sadly it is no longer one I can enjoy.