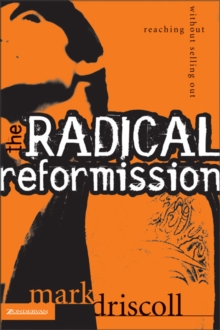 The Radical Reformission : Reaching Out Without Selling Out
Paperback
Information
Format: Paperback
Pages: 208 pages, b & w photos
Publisher: Zondervan
Publication Date: 03/09/2004
Category: Christian mission & evangelism
ISBN: 9780310256595
Free Home Delivery
on all orders
Pick up orders
from local bookshops
Reviews
Showing 1 - 4 of 4 reviews.
Review by perrigoue
16/06/2015
Ugh. More postmodern drooling...Some good points about reaching out to our lost neighbors but I'm afraid Driscoll blurs the lines of being in this world but not of it.A little too radical for me...
Review by jerrikobly
16/06/2015
Reformation is the continual reforming of the mission of the church to enhance God's command to reach out to others in a way that acknowledges the unique times and locations of daily life. This engaging book blends the integrity of respected theoreticians with the witty and practical insights of a pastor. It calls for a movement of missionaries to seek the lost across the street as well as across the globe. This basic primer on the interface between gospel and culture highlights the contrast between presentation evangelism and participation evangelism. It helps Christians navigate between the twin pitfalls of syncretism (being so culturally irrelevant that you lose your message) and sectarianism (being so culturally irrelevant that you lose your mission). Included are interviews with those who have crossed cultural barriers, such as a television producer, exotic dancer, tattoo studio owner, and band manager. The appendix represents eight portals into the future: population, family, health/medicine, creating, learning, sexuality, and religion. Mark Driscoll was recently featured on the ABC special The Changing of Worship.
Review by theologicaldan
16/06/2015
If you think I get an angry tone, check out Driscoll! He is passionate, and right in his critique of the modern church and the emerging church. He also has a whole chapter (nearly) on brewing beer.
Review by nesum
16/06/2015
I must say that I wavered about this book quite a bit. Some chapters were not that great (such as the one on providing programs in the church) while others were just great (specifically how to balance culture and conviction, etc.). Driscoll is better as a preacher than he is a writer, and yet there is a lot good here, and it is well worth the read. I certainly did not agree with him on everything (he seems to suggest dropping cold evangelism completely in favor of more relationship-based evangelism, while I think both are needed since Christ did both), but we need more of this. By "this" I mean young preachers who are out in the culture and talking with people, but still take the Bible very seriously. People who are fundemental in their theology and radical in the way they deal with people and regard one another. For too long we have had churches that are old and slow with great teaching OR churches that are hip and fresh and don't teach Christ. It has always been either/or. Either a stuffy Baptist Church that will put you to sleep or an Emergent Church of a seeker-sensative church that won't bring you to Christ. Driscoll is pointing the way to a worship that is hip and fun while still focusing on Christ. Ultimately, I must give it a high ranking because of the novelty of this.