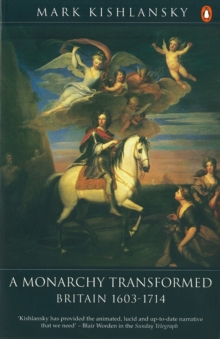 The Penguin History of Britain : A Monarchy Transformed, Britain 1630-1714
Paperback
Description
The sixth of nine volumes in the major Penguin History of Britain series, A Monarchy Transformed narrates the tempestuous political events of the Stuart dynasty. It charts the reigns of six monarchs, and the course of two revolutions as well as religious upheavals that shook the beliefs of seventeenth-century Britons to the core.
Information
Format: Paperback
Pages: 400 pages
Publisher: Penguin Books Ltd
Publication Date: 28/08/1997
Category: British & Irish history
ISBN: 9780140148275
Free Home Delivery
on all orders
Pick up orders
from local bookshops
Reviews
Showing 1 - 4 of 4 reviews.
Review by shootingstarr7
16/06/2015
A Monarchy Transformed is the history of the Stuart Dynasty in England and Great Britain, beginning with the coronation of James I in 1603 and ending with the death of Queen Anne in 1714, when the throne switched to the Hanoverian Dynasty. On the whole, I thought it was a very interesting book. It deftly told the story of all of the Stuart monarchs, as well as the story of the Commonwealth that disrupted the Stuart monarchy from 1649 to 1660. Kishlansky is an engaging writer, and it read like a novel in many ways. It is detailed, thorough, and, in my opinion, very well written.I did feel that Kishlansky did leave some areas lacking. It was historically accurate; there is no doubt about that. However, he tended to skim areas that I feel should have been covered in more detail. I was assigned this book for a class and, in all honesty, I felt that if it had not been for my professor's lectures, I would not have understood some of the details and events Kishlansky described. I also felt that he paid too little attention to the last monarchs of the dynasty, William and Mary, and Anne. Anne, in particular, received very little attention, only really being mentioned in the epilogue, and with nothing positive being said about her.In spite of it's flaws, I believe A Monarchy Transformed should be read by anyone with an interest in the history of England, or the Stuart Dynasty in particular. I also believe that those who are interested in the English literature and writers of the time, such as Milton and Pepys, should read this. It provides interesting details of the monarchy, and of England as a whole, and it gives some insight into the environment and atmosphere which these writers lived in. Very, very informative and easy to read.
Review by patito-de-hule
16/06/2015
This book covers the entire Stuart period of English history from James I to Queen Anne. That period included the civil wars of the 1640's where Charles I lost his head, the Commonwealth and restoration, the Glorious Revolution. It ended with the war of the Grand Alliance where England became a world power and the War of Spanish Succession. The two left England with massive debts which led to the founding of the South Sea Company (South Sea Bubble of George I's reign). It led from an Absolute Monarchy justified by "Divine Right" to a Constitutional Monarchy justified by Social Contract. More importantly, it led to a real revolution in political philosophy with writers like Sir Robert Filmer and Thomas Hobbes, defenders of absolute monarchy; and like John Locke, Algernon Sidney, and David Hume, the defenders of social contract theory and the people's right to resist the sovereign. These latter, in fact, supplied the ideological fuel for the American Revolution and the United States Constitution 100 years after the Glorious revolution.The style is easy to read and follow, though the author makes occasional use of trite expressions or similies. The book opens with two chapters on the Social and Political conditions of the century. From the third chapter on it is in strict chronological order. One feature that leads into the successive chapters is that each chapter begins with a two page description of one significant incident (2-3 pages in length) followed by a short 1-2 page thumbnail sketch of the entire period.It is an easy read and informative for the non-specialist who is interested specifically in this period or in some of the background for the American Revolution. That connection is not explicit, but one familiar with American Revolutionary history cannot miss many of the parallels and the rhetoric common to that period.
Review by kant1066
16/06/2015
I read this book several months ago, and don't remember many of the details of the individual narratives, but these are some general impressions on finishing the book. This is the sixth volume in the (so far) ten-volume Penguin History of Britain series. As with many of these, this was a bit of a slog. I don't know why I keep doing this to myself. The author, Mark Kishlansky, professor of English and English History at Harvard, seems eminently qualified to make this an engaging book, but it really isn't. Some reviews have referred to this as a good "undergraduate history" of the Stuart period, and that may be the case; I would only want to read it in a class where information was also pulled together in a more compelling way. A period that was so riven by political and social conflict should, perhaps, be handled with that kind of history. I have always been more interested in intellectual and cultural history, which this volume (and, it seems, most volume in this series) ignores, though I've tried not to fault it for that in my rating. A reader who asks herself, at the end of the book, "How was the monarchy transformed?" would have a difficult time answering the question precisely because of the way Kishlansky wrote the book: as a series of vivid vignettes full of vibrant personalities. The changes that happened to the important institutions, however, are much less apparent.
Review by stillatim
16/06/2015
I sometimes think that my love of 'Penguin History of x' series is straight masochism; but Kishlansky's volume on seventeenth century Britain is very well done. He writes clearly, his sentences follow on from each other (not always the case with today's historians), and he seems to have written for people who are interested in history, rather than for professors who need a text-book for an era they know little about: this book is not about settling scores with other professors.<br/><br/>The book focuses mainly on narrating the Main Story of the times, but it does start with a couple of chapters on social and political structures. He's also a good bibliographer, giving you plenty of options for further reading. The only real caveat is that the book is probably better for someone who already knows that, e.g., there was an English Revolution and so on. Kishlansky does a great job of showing how and why things happened, and he doesn't focus on any particular set of causes over any other. I'm not sure how good he is at making sure you know who Cromwell is before launching into the events of the age.