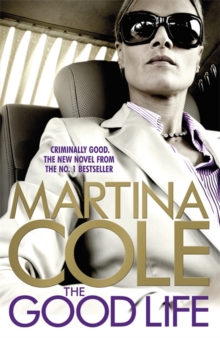 Description
THE BEST THINGS IN LIFE ARE NEVER FREE. Cain Moran wanted Jenny Riley more than he had ever wanted anyone or anything before in his life.
But loving Jenny Riley was the easy part; it was telling his wife he wanted a divorce that was going to be the killer...Jenny is not just any girl.
She cares nothing for Cain's hard-man reputation - she just wants to be with him. But Cain is not a free man. And he's about to find out that when his wife Caroline said 'til death us do part, she meant it. When Cain is sentenced to life in prison it seems that Caroline might have got her wish.
All Cain and Jenny know is that if their love can survive such separation, then one day they will have a chance at the Good Life together again. But there are greater trials ahead than either can foresee.
They're about to learn the hardest lesson of all: LIVE THE GOOD LIFE.
PAY THE PRICE.
Information
Format: Hardback
Pages: 448 pages
Publisher: Headline Publishing Group
Publication Date: 09/10/2014
Category: Crime & mystery
ISBN: 9781472200952
Free Home Delivery
on all orders
Pick up orders
from local bookshops
Reviews
Showing 1 - 1 of 1 reviews.
Review by tina1969
16/06/2015
Cain Moran is a face in the East End. He is married to Caroline and had a son. He thinks he's living the good life until he meets Jenny Riley and then things change.With Martina Cole you know what you are going to get. Her books are very gritty and violent. All her books run along tne same theme, East End gansters and women who stand by their men.For me though her books lately have lost their spark. Her early books are very good and my favourite being The Ladykiller. This lastest book is very same old, same old. Lots of violence, lots of dead bodies and plenty of bad language. At times it is how many time does the C word appear on one page. Yes it is inkeeping with the situation and with the theme of the bokk but it can get too much.I still enjoy the books to a certain extent but they are really getting very much tne same and I hate to say perhaps a bit tired.A very violent thriller thisone, with an ok story but no surprises and a little predictable at times. Not a read perhaps for anybody who is easily offended. If you are new to Ms Coles books try her earlier books as they have more passion.