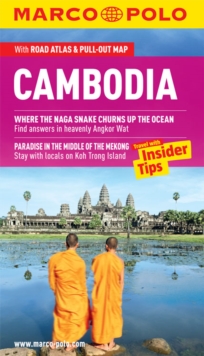 Cambodia Marco Polo Guide
Mixed media product
Description
MARCO POLO CAMBODIA: theTravel Guide with Insider Tips With this up-to-date, authoritative guide you can experience all the sights anddiscover hotels, restaurants, trendy spots, festivals and events, sport andactivities.
It provides tips on what to do on a limited budget, Best Of tips, asuggestion for a perfect tour through the country, ideas for shopping and alarge road atlas and practical pull-out map.
Also contains: Travel Tips, UsefulPhrases in Khmer, Travel with Kids, Trip & Tours and index.
Cambodia is where the sugar palms grow, as the Khmer have been saying forgenerations.
The striking, round tousled tops of the palm trees and the paddyfields cover the flat country as far as the eye can see and water buffalowallow in the mud.
That's still Cambodia, in stark contrast to Phnom Penh's newmodern face.
With MARCO POLO CAMBODIA you can experience one of the last countries in Asiawhich has been isolated for decades.
This practical travel guide, small enoughto slip into your pocket, lifts the bamboo curtain and takes you into theempire of temples and traditions.
Experience Phnom Penh, the capital city lightyears ahead of the rest of the country. Explore magnificent bathing beaches inthe south, virtually unspoilt nature in tropical jungles and a huge lake in thenorth. And there's also the glorious Angkor, the thousand-year-old Holy Citywith the largest sacred building in the world.
With the Perfect Tour you canexplore the country from north to south and go off on even more stimulatingdiversions to remote areas.
MARCO POLO CAMBODIA's Insider Tips tell you where you can become Robinson orMowgli from the Jungle Book, stay in hotels built in the massive colonial styleand experience the primeval forest riding on an elephant.
The Best Of tips takeyou to experiences costing nothing and places where Cambodia is at its mosttypical.
Follow up these tips and you'll find the nicest places to relax, andfind out where it's still really beautiful even when the monsoon's beating downoutside.
Trips & Tours take you to the fun of bathing and Khmer kings.
Cambodia'sunspoilt nature promises genuine adventures and sporting challenges.
You'llfind the most important suggestions in the sport and activities chapter. And ifyou have your kids with you, in the Travel with Kids chapter you'll learn notonly what preparations it's sensible to make, but also where you can have greatfun with the little ones.
The Dos and Don'ts advise you why you should be unsympathetic towardssnotty-nosed kids, but treat the customs of the country with respect.
MARCO POLO CAMBODIA gives comprehensive coverage of all the country's regions.To help you find your way around there's a detailed road atlas and practicalmap inside the back cover, with a Phnom Penh street atlas and detailed maps ofthe temple complexes at Angkor Wat, Angkor Thom and Siem Reap, as well as aremovable pull-out map.
Information
Format: Mixed media product
Pages: 140 pages, Illustrations, maps
Publisher: MAIRDUMONT GmbH & Co. KG
Publication Date: 16/01/2013
Category: Travel & holiday guides
ISBN: 9783829707084
Free Home Delivery
on all orders
Pick up orders
from local bookshops
Also in the Marco Polo Travel Guides series | View all