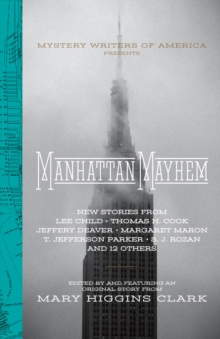 Manhattan Mayhem : New Crime Stories from the Mystery Writers of America
Hardback
Description
Take a crime-filled tour of Manhattan with this collection of all-new mystery stories compiled and edited by Mary Higgins Clark-with contributions by Lee Child, Jeffrey Deaver, Ben H.
Winters, and others. From the streets of Harlem to the winding paths of Central Park to the high-rise towers of Wall Street, Manhattan is brimming with motivation, opportunity, meansand unsolved mysteries.
In this new collection of stories, brought together by Mystery Writers of America and edited by bestselling suspense author Mary Higgins Clark, neighbourhoods in the borough come to life-or death-with their own cases to be cracked.
From the Flatiron District (Lee Child) to Greenwich Village (Jeffrey Deaver), from Times Square (Brendan DuBois) to the NY Public Library (Susan Isaacs), this collection of fifteen original short stories will lead readers all over the Big Apple.
Information
Format: Hardback
Pages: 320 pages, illustrations
Publisher: Quirk Books
Publication Date: 02/06/2015
Category: Anthologies (non-poetry)
ISBN: 9781594747618
Free Home Delivery
on all orders
Pick up orders
from local bookshops
Reviews
Showing 1 - 5 of 8 reviews.
Previous | Next
Review by Cherylk
16/06/2015
First off I did not read this whole anthology. I only got to read a sampler that had 4 stories that are featured in this collection. They are Three Little Words by Nancy Pickard, Chin Yong-Yun Makes A Shidduch by S.J. Rozan, Trapped by Ben H. Winters, and The Day After Victory by Brendan DuBois. I liked all of the stories but was not really feeling S.J. Rozan's story. However all of them did have the great feel of the theme of this anthology "Manhattan Mayhem". My favorite story was Three Little Words. For a short story the author really wrote with such passion and emotions. Instantly I shared a connection with the characters in this story. I was a little sad when the story ended. Than there is Trapped which I liked the concept of this story. A story within a story. A classic murder story with a twist. The Day After Victory is real. It touches on after the Japan War. Therefore I did like what I read and will have to check out this full anthology.
Review by PaperDollLady
27/08/2015
Manhattan Mayhem, edited by Mary Higgins Clark for the 70th Anniversary of the Mystery Writers' of America (MWA), holds an entertaining variety of NYC stories by such notable mystery writers as Margaret Maron, Jeffery Deaver, Lee Child, and Jon L. Breen, along with the opening story by Mary Higgins Clark herself. With seventeen in all, it's an anthology using a diverse array of time periods, something a history buff as myself likes, but what adds to the enjoyment and makes it truly a standout from other anthologies are the illustrated maps of each selection's neighborhood and the great photographs accompanying every entry. Actually, the books' clever cover is a map of Manhattan and it marks off in what neighborhood every contributing writer's story takes place. I thought it a book that I might just meander thorough, but after every story, I opted for another, and then another, and I got to the last story in a rather unexpected short amount of time. But then, it is after all, about New York City, where it's said life and minutes fly by.
Review by jfe16
27/08/2015
"Manhattan Mayhem" is a collection of seventeen short stories from the Mystery Writers of America to celebrate the organization's seventieth anniversary. In addition to the Mary Higgins Clark tale, the roster of authors is impressive and includes Lee Child, Jeffrey Deaver, T. Jefferson Parker. Julie Hyzy, Nancy Pickard, Thomas H. Cook, Brendan DuBois, Jon L. Breen, Ben H. Winters, Angela Zeman, N. J. Ayres, Margaret Maron, S. J. Rozen, Judith Kelman, Justin Scott, and Persia Walker.The inclusion of iconic photographs of the various New York locations where each of the crime stories takes place is a nice touch. Mystery fans can explore the Flatiron District with Jack Reacher, visit the white rabbit statue in Central Park, and celebrate victory in Times Square. Readers will find this volume, with its wide variety of tales, a true delight. Highly recommended.
Review by EdGoldberg
27/08/2015
I was between books. I'd just finished one and had a week to go beforeManhattanMayhem I started those books I purposely set aside for vacation. I needed a filler. A short story book was just the answer. I could switch around, not read them all and not feel any the worse. I knew Manhattan Mayhem, edited by Mary Higgins Clark, had stories by a few authors I like, primarily Thomas H. Cook, so I thought I'd give it a try. What did I have to lose?Well, I would have lost a lot because it is totally enjoyable…a little unpublicized gem. Manhattan Mayhem was published to commemorate the Mystery Writers of America's 70th anniversary. The hazy photo of the Empire State Building on the cover portends what you'll find inside. Each story takes place in a different section of Manhattan-Sutton Place, the upper East Side, the Flatiron District and Central Park to name a few. At the beginning of each story is a photo of some area landmark and a small map for those of us not familiar with Manhattan's various neighborhoods to identify where the action takes place.The authors include Mary Higgins Clark, Thomas H. Cook, Jeffrey Deaver, Julie Hyzy as well as authors I hadn't heard of before reading the book. The always ethereal writing of Cook is a tad less so in his story Damage Control, but the mystery is present in the misinterpretation (or is it a misinterpretation) of actions and words. It can drive a man crazy. The take off on the play Death Trap in Trapped by Ben Winters is just as suspenseful as the play. The remake of Cinderella in Margaret Maron's The Red Headed Stepchild is, while you know the ending, totally amusing. I could go on, but I'm sure you'd rather read the stories.I think my favorite thought must be S. J. Rozan's Chin Yong-Yun Makes a Shiddach which only goes to show that mothers are mothers regardless of their ethnic origin.There is a mystery for every type of mystery lover in Manhattan Mayhem.
Review by AliceaP
27/08/2015
You'd think that I'd have heard about the Mystery Writers of America before now but I guess I've just been stumbling around in the dark. There was the time that I reviewed their cookbook but that's quite different from the collection of short stories that comprise Manhattan Mayhem. It introduces the reader to a variety of writing styles, tropes, and authors which you may or may not have heard of (along with a list of their written works which will be added to my TRL). I really enjoyed the pace of this anthology. Not only is the reader bounced around to different areas of Manhattan but also to different time periods. It's a grab bag where you're left asking, "What's going to happen next? Is it a story about the mob? Is it a cold blooded murder? Will it be obvious who are the good guys and the bad guys?". This would probably be an excellent choice for "book to take while on vacation". For fans of crime and/or mystery stories, you can't go wrong with this one.