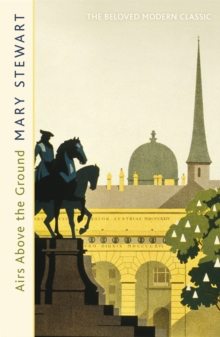 Airs Above the Ground
Paperback
Description
Vanessa March's husband Lewis is meant to be on a business trip in Stockholm - so why does he briefly appear in newsreel footage of a fire at a circus in Vienna, with his arm around another woman?
Vanessa flies to Austria to find her husband, inadvertently becoming involved in a mystery that spans three countries...and the famous dancing stallions of the Spanish Riding School. The moonlight flooded the meadow, blanching all colours to its own ghostly silver.
The pines were very black. As the stallion rose in the last magnificent rear of the levande, the moonlight poured over him bleaching his hide so that for perhaps five or six seconds he was no longer an old broken-down piebald, but a haute ecole stallion of the oldest line in Europe. The ninth novel of intrigue and suspense by the beloved author of Madam, Will You Talk and This Rough Magic, Airs Above the Ground is an enchanting tale of adventure and romance set against an unforgettable backdrop of international espionage...and featuring the famous dancing stallions of the Spanish Riding School.
Information
Format: Paperback
Pages: 384 pages
Publisher: Hodder & Stoughton General Division
Publication Date: 17/03/2011
Category: Crime & mystery
ISBN: 9781444720525
Free Home Delivery
on all orders
Pick up orders
from local bookshops
Reviews
Showing 1 - 1 of 1 reviews.
Review by shanaqui
16/06/2015
"Hi, honey, I've been lying to you throughout our relationship and I'm <spoiler>actually a spy</spoiler>."<br/>"Oh my god, that is so sexy. If we weren't married I'd marry you again."<br/>"That guy hit you? I'll burn his hand until he screams."<br/>"Oh my god, that is so sexy. Let's have babies."<br/><br/>Basically. Vanessa's husband Lewis was meant to be going with her on a trip and then he had to cancel for unexplained work reasons and a quick trip to Stockholm -- and then she sees him in news footage from a disaster in Vienna... with his arm around a pretty blonde girl. I wasn't sure I could stick with that plot, but fortunately it didn't turn out to be the main attraction: that mystery, at least, was relatively swiftly solved.<br/><br/>What remains a mystery to me, even after finishing the book, is how a woman who is perfectly prepared to indulge in car chases and tote a gun around -- in a pretty kickass style for someone who thought she was dealing with an extra-marital affair, not violence -- can still be full of the Mary Stewart novel-esque thoughts about how fragile and sweet womanhood is and how it's so wonderful when men treat women like they're delicate and -- I can't even go on. That's the worst part about Mary Stewart heroines: I knew that going in, but it really got on my nerves this time.<br/><br/>Which is too bad, because I rather enjoyed the plot otherwise. The side plot about the horses was quite touching, in a way, and all of that stuff came together very well. The atmosphere that you'd expect from a Stewart novel is there in spades, and aside from the bit about the charming little gypsy carriage, which wasn't too bad, there's not too much of the colonialism that so grates when reading Stewart.<br/><br/>Two Mary Stewart novels in a day -- I'm being positively decadent. I only have one of her mystery/romances left to read, The Ivy Tree, and I'm a little disappointed at that. I doubt they're very rereadable, either. So now I must look for a new equivalent to Mary Stewart novels for my bathtime light reading.