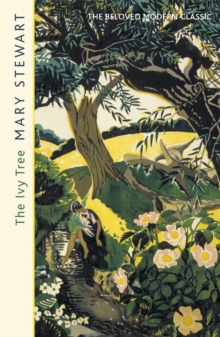 Description
Upon being mistaken for the missing heiress Annabel Winslow, Mary Gray - destitute and at her wit's end - impulsively agrees to pretend to be the other woman in order to carry out a terrible deception.
Mary finds it easy to slip into Annabel's comfortable life, so different from her own, but not everyone is convinced by her act - least of all Adam Forrest, Annabel's former lover, who hides secrets of his own...The ivy had reached for the tree, crept up it, engulfed it, till now the trunk was one towering mass of the dark gleaming leaves, and only the tree's upper branches managed to thrust the young gold leaves of early summer through the strangling curtain.
Eventually the ivy would kill it...The sixth novel of gothic suspense by beloved novelist Mary Stewart, The Ivy Tree is a classic of mistaken identity and unreliable narrators, and features perhaps the author's most complex and exceptional heroine.
Information
Format: Paperback
Pages: 480 pages
Publisher: Hodder & Stoughton General Division
Publication Date: 17/03/2011
Category: Crime & mystery
ISBN: 9781444720464
Free Home Delivery
on all orders
Pick up orders
from local bookshops
Reviews
Showing 1 - 1 of 1 reviews.
Review by shanaqui
16/06/2015
Possibly my favourite Mary Stewart so far -- and the last of her mystery/romances, which is possibly why. Gah, I can't believe I have no more to look forward to. I accidentally spoilered myself as to the end of this one, but that was okay because the narration is clever enough that I just spent the time trying to catch Mary/Annabel out.<br/><br/>I wish I knew what it was that makes Mary Stewart's mystery/romances work for me, but I can't really put my finger on it. Something about the atmosphere, the characters, the simple inevitability of it all, the way she can make me believe the most terribly far-fetched things. The way I end up falling in love with most of her pairings. She didn't make me fall in love with Con -- I saw him coming far too easily, the way he was -- or understand Mary/Annabel's willingness to work for his interests, but still. Somehow I accepted the plot anyway.<br/><br/>I'll miss Mary Stewart's romances. They're immensely easy to read, addictive, and usually well-balanced as regards the amount of suspension of disbelief necessary, description vs. action, characters, romance vs. mystery... I'd have to be very sure of someone's taste before recommending these, I think, but I was utterly and unexpectedly charmed.