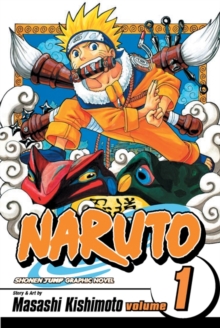 Naruto, Vol. 1
Paperback
Part of the Naruto series
Description
Naruto is a ninja-in-training with a need for attention, a knack for mischief, and sealed within him, a strange, formidable power.
His antics amuse his instructor Kakashi and irritate his teammates, intense Sasuki and witty Sakura, but Naruto is serious about becoming the greatest ninja in the village of Konohagakure!
In another world, ninja are the ultimate power - and in the village of Konohagakure live the stealthiest ninja in the world.
But twelve years ago Konohagakure was attacked by a fearsome threat - a nine-tailed fox demon which claims the life of the Hokage, the village champion.
Today, peace has returned, and a troublemaking orphan named Uzumaki Naruto is struggling to graduate from the Ninja Academy.
His goal: to become the next Hokage. But unknown to Naruto and his classmates, within him is a terrifying force...
Information
Format: Paperback
Pages: 192 pages, chiefly Illustrations
Publisher: Viz Media, Subs. of Shogakukan Inc
Publication Date: 01/08/2003
Category: Manga
ISBN: 9781569319000
Other Formats
Paperback from £8.35
Hardback from £9.85
Free Home Delivery
on all orders
Pick up orders
from local bookshops
Reviews
Showing 1 - 5 of 10 reviews.
Previous | Next
Review by kai_yukirin
16/06/2015
A demon resides in Uzumaki Naruto, a young outcast of his ninja village. As he fights to gain respect and become the leader of his home village Konohagakure, Naruto's a great story with a combination of almost every genre, not really settling on particular subject.
Review by TheoClarke
16/06/2015
An ingenuous first issue that is charming but unsophisticated. The characters are entertaining and likeable. The simple plot contained just enough to hold my interest and I was eager to read the next issue. Some of the character illustrations are difficult to differentiate in this issue but this improved with later episodes.
Review by 7B_godofdeath
16/06/2015
Naruto, a boy who causes much trouble in the town he lived, Konohagahure. Having failed the test 3 times, he steals the scroll of his village and studys it. His teacher, Iruka, finds him and Naruto told him why he steal the scroll. Iruka figures out that another person told him.After a series of events, he becames a ninja. He meets his teemates and leader. They now have to take test to become an offical ninga. When times up, they failed. End of naruto volume 1.
Review by jckeen
16/06/2015
Naruto Vol. 1, by Masashi Kishimoto, is the first part in an incredibly vast series of graphic novels. Written and illustrated in the Japanese Manga style, Naruto is the story of Uzumaki Naruto, a ninja in training.Like many Manga protagonists, Naruto has many faults that make him an underdog. In this case, Naruto is a class clown who can frequently be obnoxious and annoying to his elders and fellow students. Not without skills and perseverence, however, Naruto is determined to be the next Hokage (the highest-ranking leader of the village).Many boys are attracted to Manga for their exciting illustrations of battle scenes. Naruto, as is typical for this style, is drawn in black and white. While lacking color, the illustrations have fine details and often humorous depictions of the characters and their facial expressions. While I find the graphics to be not as appealing as the colorful, simpler illustrations of other styles, and I wouldn't mind seeing a protagonist with a bit more maturity, it's hard to argue that most boys wouldn't enjoy following Naruto throughout his training and adventures. With at least 45 volumes to date, Naruto is likely to keep fans chain reading.
Review by LisaWeaver
16/06/2015
A Japenese Shounen Manga about NINJA's!!I fell in love with this one, and have read up to the most recent publication.Naruto is a delinquent, attention seeker. The villagers, in the village he has lived in since he was born have hated him and treated him terribly. A very humourous and adventurous manga. Volume one is just an introduction, and once you start you cannot put it down, or wait for the next in the serialization.