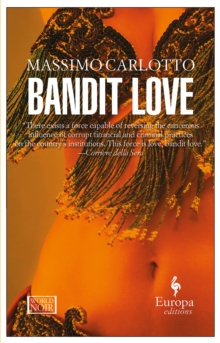 Bandit Love: Europa Editions
Paperback
Information
Format: Paperback
Pages: 208 pages
Publisher: Europa Editions
Publication Date: 28/09/2010
Category: Crime & mystery
ISBN: 9781933372808
Free Home Delivery
on all orders
Pick up orders
from local bookshops
Reviews
Showing 1 - 3 of 3 reviews.
Review by BlackSheepDances
16/06/2015
"This was underworld business: it was a mathematical certainty that it was going to end badly… Somebody was going to die. That was the only thing we knew for sure as the car raced eastward in the night."It starts with a kidnapping that makes little sense, and moves nonstop into one of the most enjoyable literary treats I've read this year. Even though this crime novel is serious business, there's an air of humor that surrounds a trio of ex-cons and bad guys that are called in to solve the crime. Yep, these guys, having paid their dues as tough guys and retired from that life of crime, now just want to sit back and drink Calvados, eat pasta, and listen to the blues. Except for the lead, Marco Buratti, who also happens to be addicted to home shopping television shows. The action is non-stop as it crosses through Italy and into the Balkans as the three men try to solve two mysteries. They had previously got involved in a hit that went wrong, the moral of which was, "know who you do business for and why before you shoot someone." Since they didn't obey that rule, they have to backtrack and solve that before the kidnapped woman can be found.The characters that they run into are just that: characters. Carlotto makes them memorable, with little clues that make them feel much more complicated than just a simple definition of "bad guy". Drug smugglers have egos and their own tragic flaws, of which these experienced searchers exploit, while at the same time they lament,"Why do Mafiosi always seem to have one useless son?"This leads to an amusing conversation as they analyze The Godfather and The Sopranos to point out just which characters were intellectually-challenged. The rapport between the three is priceless, as they unquestionably back each other up, which would seem unlikely for the world they live in. And what a world that is, when drug smuggling and police corruption is impossibly powerful, with so many innocents thrown into the conflict.I can't even begin to explain why this book was so much fun, given the subject matter was serious and at times, appalling. Perhaps it's the universal simplicities that unite everyone-good or bad-the power of a good meal? A view of the sea? The comfort of a regular table at the trattoria?
Review by TadAD
16/06/2015
A reasonably satisfying noir, Italian style. I didn't realize it when I bought the book, but it's the fifth in a series. That's not a problem for reading it since Carlotto is good at giving you all the backstory you might need. While I enjoyed it enough to pick up a sixth (if it occurs), I'm not sure if I'll go back and read the first four...my impression is that this book was chock full of what would be spoilers for the earlier ones.
Review by ebyrne41
16/06/2015
This is the seventh (?) in a series (others include The Columbian Mule and The Master of Knots) by Massimo Carlotto, a man whose own life would make a fascinating read; charged and convicted with murder, acquited, retried, convicted and sentenced, goes on the run, hands himself in, spends a number of years in jail, only to be finally pardoned after some 18 years battling with the courts to prove his innocence. No wonder he turned to writing crime novels. I had read The Columbian Mule some years ago, thought it ok, nothing more. Like the others in the series, it features Marco Buratti ('the Alligator'), a former blues singer and ex-con turned private investigator. When his close friend Beniamino Rossini's beloved Sylvie is kidnapped, Marco, Rossini and the other of a trio of close friends, Max la Memoria, set out to find and free Sylvie. Her kidnapping may it seems be an effort to punish them for a past criminal involvement. For this is what the book is about - war and revenge between criminal rivals. There are no real good guys in this, in Carlotto's world everyone is tainted, corrupt - police, politicans and criminals alike. Yet a code of conduct, honour, loyalty and friendship are important aspects of the story. Violence is ever present, not a second thought is given to meting out some painful if not fatal retribution. Present too are some of the staples of the criminal world: drugs, smuggling, the sex trade. And it is not only the old Italian criminal world that are involved; make way for some Serbian crooks and Kosovar mafiosi. It is like the old versus the new as the new criminal gangs from Eastern Europe seek a foothold in northern Italy. The books starts out in Padua, but moves to other locations in Italy and to Grenoble in France too, and you have to have your wits about you to keep up with the change in timeline also, as the story jumps between 2004, 2006 and 2008. This to my mind is the least satisfactory aspect of the book. A relatively short novel at only 180 or so pages, it moves apace and a lot happens, maybe too much given its shortness. The characters I found to be the most interesting and pleasing aspect of the book. Without giving anything away (how not to?), the ending is a little sudden and maybe a little surprising. This novel is what might be termed dark noir, and is in stark contrast to the books of another famous Italian crime fiction writer, Andrea Camilleri.