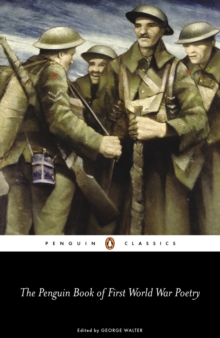 Penguin Book Of First World War Poetry
Paperback
Description
Reflecting the voices of poets, soldiers, the families they left behind and their comrades who would never return, The Penguin Book of First World War Poetry, previously published as In Flanders Fields, is edited with an introduction by George Walter in Penguin Classics. Unrivalled for its range and intensity, the poetry of the First World War continues to have a powerful effect on readers.
This anthology reflects the diverse experience of those who lived through the war - bringing together the words of poets, soldiers and civilians affected by the conflict.
Including famous verses from Rupert Brooke, Siegfried Sassoon and Wilfred Owen; pieces by less well-known writers such as Gilbert Frankau and Osbert Sitwell; works by women describing the emotions of those at home; and the anonymous lyrics of soldiers' songs, The Penguin Book of First World War Poetry offers a blend of voices that is both unique and profoundly moving. This collection has been arranged thematically, moving through the war's different stages from conscription through to its aftermath, to offer the reader a variety of perspectives on the same common experiences. George Walter's introduction discusses the role and scope of First World War poetry anthologies, and how the canon has changed over the years.
This edition also contains notes and biographies. George Walter is Lecturer in English at Sussex University.
His research interests are 20th-century literature; madness and creativity; constructions of Englishness; the cultural impact of the First World War.
He has edited editions of the poet Ivor Gurney's work for Everyman and Fyfield Books. If you enjoyed The Penguin Book of First World War Poetry, you might also like Robert Graves' Goodbye to All That, available in Penguin Modern Classics.
Free Home Delivery
on all orders
Pick up orders
from local bookshops
Reviews
Showing 1 - 3 of 3 reviews.
Review by nigeyb
16/06/2015
Some very interesting information in the introduction that I hadn't realised. It's all quite obvious in retrospect but it was still a series of lightbulb moments for me so I'll make reference to it. The reason why there were hundreds of thousands of poems written and published during World War One was because:- poetry was for most of Edwardian society, a part of everyday life;- The media was also almost wholly print-based (cinema was still very much in its infancy); - Victorian and Edwardian educational reforms resulted in increased literacy; - the army which Britain sent to fight was the most widely and deeply educated in her history. I find it very hard to imagine an era when poetry was so much a part of day-to-day life. Although I have never learnt the skill of appreciating poetry, as I read through a succession of these poems, and triggered by certain words or phrases, I started to get images of a grim, kaleidoscopic mix of lice, blood, death, patriotic songs, mad, futility, despair, absurdity, sickness, fear etc. It proved to be a powerful and moving experience.As I was reading this book, I was also reading Goodbye to All That by Robert Graves. Sometimes the two books worked in tandem. Robert Graves describes the horror of The Battle of Loos and there - in this volume - are poems inspired by Loos. One very small but moving moment was reading a poem written by Rudyard Kipling. When he actively encouraged his young son John to go to war he was expecting triumph and heroism. John died in the First World War, at the Battle of Loos in September 1915, at age 18. After his son's death, Kipling wrote...If any question why we died / Tell them, because our fathers lied.An important document of how World War One was experienced by a wide range of articulate and thoughtful people that brings the experience vividly to life.
Review by Xleptodactylous
16/06/2015
It is difficult for me to know what I should be reviewing here: the poetry within or the entire collection? I would give the poetry five stars, for it is an absolutely fantastic collection of poetry that can never be stopped in telling the gruesome truth of War and All. It also features poetry by women, which is something I have never encountered in modest amounts before. Thus meaning that as a collection, they have done well in picking those which capture the very essence of feeling.<br/><br/>But the way the book itself sets the poetry out is dismal. It runs in order of how the War panned out, yes, but that is as far as it allows. There is no contents page to let you know even where those of this order begins and ends and the introduction is tiresome. Considering this is from Penguin Classics, I am disappointed with that.
Review by Schmerguls
27/08/2015
When I was lent this book I had no intention of reading it page by page, since I seldom do so with a book of poems. But I started and found the Introduction so suggestive of the contents being carefully selected that I read all the poems. There must be about 200 of them. They are nearly all English, with many poems by Rupert Brooke, Siegfried Sassoon, Robert Graves, and the like. Most are appropreatetly doleful and of course poems such as The Soldier, I Have a Rendezvous with Death, and In Flanders Fields, which I memorized in my younger days, are included. But only poems by poets who lived at the time of the war are included, so the World War One poem which I consider especially evocative:: The Great War, by Vernon Scannell, is not included, since Scannell was not born till 1922.