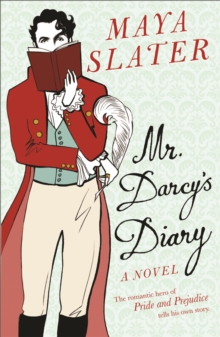 Mr Darcy's Diary
Paperback
Description
At last, the secret thoughts of Mr Fitzwilliam Darcy, romantic hero to millions of would-be Elizabeth Bennets, are revealed in this utterly convincing and captivating novel of love and pride, passion and prejudice. The novel traces the events of Jane Austen's well-loved Pride and Prejudice through the eyes of Mr Darcy.
It reveals his reactions to Elizabeth, his gradual falling in love and the process by which he painfully gains self-knowledge, and it brings to life all the off-stage events that are only referred to in Austen's novel. We learn of Darcy's life in London, of his dangerous friendship with Byron, of the responsibilities that come with running Pemberley, and the terrible guilt he feels at not protecting his sister well enough from the dastardly Wickham.
We also see Miss Bingley's increasingly desperate attempts to woo Darcy, and his own part in bringing about the separation between Elizabeth's sister and his own best friend. But above all, we come to know Fitzwilliam Darcy as a fully-rounded character, with all his flaws and all his attractions, and we learn that the story told from his point of view is as enchanting, gripping and unforgettable as Jane Austen's original.
Information
Format: Paperback
Pages: 256 pages
Publisher: Orion Publishing Co
Publication Date: 17/10/2007
ISBN: 9780753822661
Free Home Delivery
on all orders
Pick up orders
from local bookshops
Reviews
Showing 1 - 2 of 2 reviews.
Review by wyvernfriend
16/06/2015
Reads like Fanfic, the story of Mr Darcy from Pride and Prejudice and his story via his diaries (with a superflous justification thrown in as well. Yes it's a clever conceit and much of what he does reflects the seedier side of the reality of the time; you can tell the author knows this period and has done the research.But, it's really just fanfic, he really didn't quite engage me. There were some interesting funny bits in the story that kept me reading but really it was just pretty mundane.Fitz as his friends call him is pretty shallow, but he learns a lot about love when he tries to help a friend and we learn more about why he hated Wickham.
Review by buoyread
16/06/2015
Have you ever wondered what goes on in another person's mind while doing things? What do you think a butcher thinks while chopping off a large pound of meat? What a schoolteacher thinks while writing lectures on the board apart from the lesson at hand? What a man thinks while he is being lectured upon by his wife? In Mr. Darcy's Diary, a classic retelling of Jane Austen's Pride and Prejudice through Mr. Darcy's eyes explores this gentleman's mind frame through the entries in his diary. And I must say, the story is presented as seamlessly and as accurately as I could have imagined it. Fitzwilliam Darcy is my favorite character (don't we all?) as he often appears aloof, proud, and silent, and his personality alludes to mystery, which I always love. Which is why, as soon as I saw this book, I grabbed it from the shelf.Mr. Darcy's Diary attempted to shed light on some mysteries in the original novel, giving the readers an understanding of Wickham's treachery, shedding light on Miss Caroline's true motives and feelings, and also showing a sympathetic, sensitive, and passionate man beneath the strong, reserved, and proud facade that is Mr. Darcy himself. I have always speculated about how the men feels in Pride and Prejudice, as the original novel seems to be more focused on the Bennet family. In this book, it served to make me love my favorite characters in the original novel more. Elizabeth definitely deserves a man as passionate and as in love with her as Mr. Darcy was. This diary is realistically written, with brief recollections of day-to-day events in Mr. Darcy's life, yet never seeming to lose any detail.The author has also brought humor to the book through the relationship between Mr. Darcy and Peebles, his valet. The latter's obsession with his master's grooming and fashion provides some comedic banters and lightens an otherwise brooding and serious story.Before reading this book, I actually reread Pride and Prejudice again, just so I won't be easily fooled by this book, but to my pleasant surprise, the story in this book blended seamlessly into the original novel, it was like reading an actual sequel. Hands down to Maya Slater - this was a risky endeavor for her - Pride and Prejudice is one of the most well-loved of the classics, and a careless handling of its story may prove fatal for the story, if not for the one who wrote it. But reading through this book, I would have not wanted it any other way.A lesson in pride: this book showed how Mr. Darcy has shed his pride in the face of true love. As you read through the passages of his diary, you'll be shocked at how this proud man crumbled in the face of rejection and loneliness, and how it helped him become the man that finally deserved Elizabeth's love.A lesson in empathy: this book teaches the reader that other people have minds and feelings too, despite their outward reactions and affectations, inside they have their own thoughts, not all of which may be agreeable or nice, or, in Mr. Darcy's case, not very "Mr. Darcy."
Also by Maya Slater