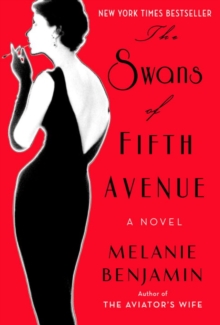 The Swans of Fifth Avenue : A Novel
Hardback
Information
Format: Hardback
Pages: 368 pages
Publisher: Delacorte Press
Publication Date: 26/01/2016
ISBN: 9780345528698
Free Home Delivery
on all orders
Pick up orders
from local bookshops
Reviews
Showing 1 - 5 of 10 reviews.
Previous | Next
Review by MomMom46
02/12/2015
What at first seemed to be a trite story of society women bred from birth to be the ultimate trophy wives, became a fascinating tale of their complicated lives. As the author states in her commentary,"What happened to them all, these mythological creatures in their penthouses; what happened to New York, to sophistication, to elegance, to fairy tales? What happened to Truman Capote? What happened to his swans? What truly was the price they paid, for the lives they lived? For there is always a price. Especially in fairy tales." Most of the novel spins around the beautiful, unhappy socialite Babe Paley and the brilliant,grotesque author Truman Capote. Truman called Babe and her circle of friends his Swans. Through the early days of the 1950's and their friendship,Truman gained access to their scandals and gossip. Ultimately he turns on them, revealing their secrets in a magazine article called La Cote Basque 1965, published in Esquire magazine in 1975 when their fairy tale ended. The author stated that she once envisioned Babe Paley and Truman Capote sitting in a corner sipping champagne at the Plaza. On a recent trip to New York City my husband and I had dinner at Cafe Benoit,which is in the space formerly occupied by La Cote Basque, so it was easy for me to picture the Swans lunching there with their white gloves,jewels and champagne.
Review by GarySeverance
02/12/2015
The Swans of Fifth Avenue is a novel of imagined experience, focusing on the relationship between author Truman Capote and socialite Babe Paley. The "Swans" consist of Babe and her friends beginning in the 1950s who live lives of wealth so great that appearances dominate every moment their existence. The money comes from former and present marriages to men who pursue their careers leaving social obligation details to their wives. Time seems to hang heavy on the attractive to beautiful women, and they fill it with obsessive attention to personal grooming, stylish clothing, soirees, traveling from one lavish residence to another, spending time on ocean liner sized private yachts, and frequent elaborate lunches at New York City's finest and most exclusive restaurants. The paparazzi of the time were welcomed to take photos of the women posing for studies in opulence. No camera could catch the urgently churning webbed feet of the swans struggling to maintain appearances, the photos showing only the serene aimless floating of the lovely creatures. Truman entered into this "lush life" perceived by people who count as a handsome, witty, and talented writer. He loves the vibrant scene of the City and uses his charisma, talent, and work for Vogue to insinuate himself into the social stratosphere of Fifth Avenue. The wealthy men seem happy to have gay and exuberant Truman around to act as a diversion for their wives. Few people knew the psychological importance/dependence "Tru" fostered in the intelligent, lonely, and aimless socialites. This was especially true of Truman and Babe who recognized at first glance the vulnerability and insecurity in each other just below the surface of the public personas they affected. In a way, the love affair that developed between Truman and Babe was like that of Lady Brett Ashley and Jake Barnes in Hemingway's The Sun Also Rises; love requited in all aspects but one.Melanie Benjamin states in an author's note that she had no inside information about the beautiful people in her novel. She was not a member of their circle. The fiction is in the writer's imagination of the dialogues and monologues of the real life characters behind closed social barriers and closed doors of expensive restaurants, hotels, and residences. Since the story is about "a way you'll never be," readers are caught up in the mesmerizing interaction of the characters by their external conversations and internal ruminations. Benjamin is so effective at imagining the public and private experiences of Babe, Truman, and the members of the tribe that readers will forget that The Swans of Fifth Avenue is a work of fiction. Readers also may feel they are welcome visitors to the rare atmosphere of the highest social class of people in business, the arts, and public media. Readers will not envy the swans and their connections, but rather will be one of them. As I read the excellent novel, I kept thinking of a song that I have enjoyed for many years, Natalie Cole's interpretation of Lush Life by Billy Strayhorn. This is a wonderfully entertaining novel that will bring back active echoes of the past for the older reader, interesting social history for the less seasoned adult readers, and glimpses of bizarre behavior that occurred in ancient history for young adults.
Review by bearette24
02/12/2015
This book was about Truman Capote and his set in New York: for the most part, shallow and bitchy people...except for the fragile Babe Paley, who was never mean to anyone, though she suffered terribly in her marriage. Truman, abandoned by his mother as a child, becomes her best friend...and then he betrays her.I found this book to be a downer. I wanted Babe to leave her husband. I wanted Truman to enjoy his success. Instead, the two of them clung to their misery. A better book about Babe and Truman (and also the book and movie, Breakfast at Tiffany's) is Fifth Avenue, 5am: Audrey Hepburn in Breakfast at Tiffany's by Sam Wasson.
Review by indygo88
27/01/2016
I've wanted to read Melanie Benjamin for a while now. I have her other books on my TBR pile, but they haven't yet made their way up to the top of the stack. But I received this one as an advanced reader's copy, so that automatically moves it up in priority.The "meat" of this novel, which could probably be termed as historical fiction (although not too far back in history), centers around Truman Capote and his "Swans", the swans being the New York high society women of the time, with Babe Paley (wife of CBS founder Bill Paley) being the most elite of this high class group. I had a vague knowledge of Truman Capote going into this. I'd read In Cold Blood and I knew Truman to be somewhat of an odd little man, but that's about it. I've not seen any of the more recent movies highlighting his life. Additionally, the name Babe Paley was a complete unknown to me, as were the other Swans mentioned in this book (Slim Keith, C.Z. Guest, Gloria Guinness, Pamela Churchill). So I suppose you'd say I was enlightened by reading this book. And yes, as is often the case when I read a book of historical fiction, I found myself Googling and sometimes YouTubing to find out more about all of the characters I was reading about. Despite all that, I was only lukewarm over this book, and I think I blame that more than anything on the subject matter. Basically, it was a book that gushed about the beautiful people of New York in the 1950's and the years following. Ultimately, I can read only so much about the rich & famous and what they wear, what they spend their money on, who knows who, and so on. It was all interesting to a point, but after a while I just wanted to be done. I find it hard to resonate with people who have it all, do it all, and brag about it. Truman Capote apparently truly was one of a kind, and the scandal he created has piqued my interest enough that I now really want to watch "Capote" and/or "Infamous". But I'm hoping that this was not Melanie Benjamin's best novel.
Review by amandacb
02/12/2015
Drenched in whiskey and jewel-toned silks, the famous socialites of 1960s New York come alive in Melanie Benjamin's latest tour de force. If you're like me, nothing is as delicious as reading about the sumptuous lives and dramas of the "rich and famous"—and Benjamin certainly delivers on this front.Truman Capote is launched into the social scene thanks to his indelible and incisive works, including In Cold Blood and Breakfast at Tiffany's. Babe Paley, Slim Keith, C.Z. Guest, Gloria Guinness, and Pamela Churchill all are Capote's "swans," or beautiful circle of friends—but Capote's true love is Babe. Married to a cheating and demanding husband, Babe Paley, instead of getting angry, turns her own body into a work of art, becoming one of the most famous socialites of the era. Babe and Truman share a special bond; he is her "True Heart," and she is his "Bobolink." That is, until Truman attempts to fictionalize Babe's secret shames in a short story La Cote Basque 1965. Truman's swans turn their backs to him and he begins a downward spiral into alcoholism.A fascinating book is one that completely immerses me within the scene, one that propels me to research different people and artifacts mentioned with the book. Swans of Fifth Avenue is such a book; highly recommended!One of my favorite quotes from the book:"…and all she could look forward to was losing her teeth, more face-lifts, orthopedic shoes instead of Ferragamos, the constant battle of the dye bottle…and all the money in the world couldn't stop any of that, couldn't stop the ravage of time and great.And that was the secret, the wonder of Truman, she realized suddenly. Truman made them forget all that. He had amused them. Their husbands didn't want to talk to them. They grew bored talking to one another, these glorious creatures, for they were all the same. Blond, brunette, tall, short, European or Californian, they were still the same; only the exteriors were different. And they devoted their livest o maintaining this difference, striving to shine, be the one jewel who stood out. Yet at night, they took off the diamonds and gowns and went to empty beds resigned to the fact that they were just women, after all. Women with a shelf life.And then Truman leapt into their midst, and suddenly the gossip was more delicious, the amusements more diverse." (244)