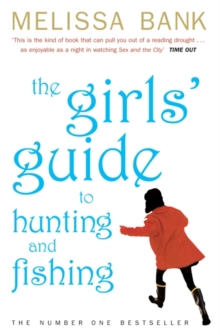 The Girls' Guide to Hunting and Fishing
Paperback
Description
After following the advice from a manual called "How to Meet and Marry Mr Right", Jane learns that in love there is neither pattern nor promise.
This is a funny collection of connected stories and a portrait of Jane, a woman manoeuvring her way through love, sex and relationships.
Information
Format: Paperback
Pages: 304 pages
Publisher: Penguin Books Ltd
Publication Date: 25/05/2000
Category: Anthologies (non-poetry)
ISBN: 9780140278828
Free Home Delivery
on all orders
Pick up orders
from local bookshops
Reviews
Showing 1 - 5 of 5 reviews.
Review by butterflybaby
16/06/2015
This book was not as entertaining as I expected it to be. Jane's character was boring as was all the other characters. I honestly can't remember anything that stood out in this book. It was pointless. I would not recommend it to anyone.
Review by cameling
16/06/2015
[A Girls' Guide to Hunting and Fishing] by Melissa Bank is a light and casual story following a 14 year old girl as she experiences life.The chapters are centered around specific periods of her life, when she first observes love through her brother and his glamorous girlfriend, when she finds love herself at college, the love she observes between her parents, a relationship with an older man, her relationship with her new boss, an old relationship revisited, and the love she feels for her children and their loves.This book reads like short vignettes into a woman's life as it unfolds.
Review by isabelx
16/06/2015
The cover (banana yellow with bubblegum pink writing) mislead me into thinking that this would be a typical chick-lit book, but it wasn't like that at all.An unexpectedly good read.
Review by 26kathryn
16/06/2015
This book was a nice, easy read. I got a bit confused by the fact that the chapters seemed to be a bunch of short stories rather than one flowing story, especially as the stories were mostly written in first person so there wasn't much of an indicator of who they were supposed to be about. Other than that this boook was ok, not very memorable or exciting, just ok.
Review by Cheryl_in_CC_NV
16/06/2015
I stuck with it cuz it was short, but I didn't care for it at all. I didn't get a sense of the main character until the very end, at which point I finally began to empathize with her. I suppose it's more interesting to people to whom it's more relevant. The author does write with evocative grace. She had an interesting approach, too: it was less like a straight-forward narrative and more like episodes in a light tv drama, a la' Ally McBeal or Men in Trees perhaps. <br/><br/><br/>