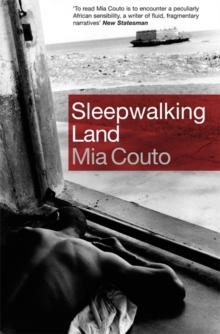 Sleepwalking Land
Paperback
Description
An old man and a young boy, refugees from a civil war, seek shelter in a burnt out bus.
Among the effects of a dead passenger, they discover a set of notebooks that tell of his life.
As the boy reads the story to his elderly companion, the tale gradually becomes part of their own lives. Sleepwalking Land, Mia Couto?s first novel, was an immediate success, and judged at the Zimbabwe Bookfair 2001 to be one of the 12 best African books of the 20th century.
Set in the author?s native Mozambique, the novel examines the effects of war and devastation on a newly independent African nation.
A sombre book, it reflects a moment in the history of Mozambique when the country could only go forward after settling its account with the bloody past.
Deftly exploring the relationship between oral tradition and the written word, truth and fiction, memory and invention, this is a memorable book that captures a critical moment in Africa?s history.
Information
Format: Paperback
Pages: 256 pages, black & white illustrations
Publisher: Profile Books Ltd
Publication Date: 21/02/2006
ISBN: 9781852428976
Free Home Delivery
on all orders
Pick up orders
from local bookshops
Reviews
Showing 1 - 5 of 5 reviews.
Review by jomango
16/06/2015
Compelling novel set in war-torn Mozambique. Wonderfully crafted, sometimes harrowing, as refugees from the civil war hide amongst the dead in a burnt out bus, and live someone else's life through a notebook they find.
Review by dancingwaves
16/06/2015
I found this book to be both beautifully written, but strangely uncompelling. I finished it for the sake of the lines here and there that were so beautiful ... but overall, felt too fragmented to actually get much from.
Review by TadAD
16/06/2015
An old man, Tuahir, is traveling through war-torn Mozambique with young boy, Muidinga, who is recently recovered from some kind of sickness or trauma. They take shelter in a bombed out bus, where they find a set of journals on the body of a dead boy, Kindzu. The chapters of the novel alternate between readings of the stories in the journal and recounting the experiences of Tuahir and Muidinga during their time spent in and around the bus.I had a lot of trouble with this book. The language, though spare, is very evocative and compelling. There was no difficulty in feeling the the sorrows of the war, the frustrations at government corruption, the racial tensions of the land. The book leans heavily toward magical realism but does so in a way that conveys the sense of a dream rather than a jarring departure from reality.However, the story is filled to the brim with symbolism and I found myself wandering through it, feeling like I never quite understood the full significance of most of the magical events. I felt that i was missing many of the points the author was trying to make.If I were conversant enough with the history and culture of Mozambique, I think I would find this a marvelous book. As it was, I found that I was almost sleepwalking through parts of it (yes, pun intended).
Review by tmostman
16/06/2015
A young boy and man are refugees from a guerrilla civil war who happen upon a bombed and burned bus. They seek shelter in the bus, but what they discover changes their quality of life. They find 10 notebooks belonging to a man that may or may not be one of the dead people on the bus. What unfolds is an African Odyssey - the man in the notebooks and our two characters are taken on a dream-like adventure.I thought the folklore and the tall-tales were just enough. It added to the story tremendously in the way of using imagination as a coping method in such horrific circumstances. For instance, in one part of the book, the two happen upon a man who is trying to make a river. He has dug over hills and through mountains. He wants to make a river so his village can be prosperous. The two decide to help him dig, but then the sky opens up and torrential downpour descends. The man attempting to make the river falls into his river, which is now a churning rapid-like mud pit. Everything he just dug is leveled out, in the way water levels sand - with him under it.This was sort of a re-occurring theme. Some characters were trying to become Westernized and "civilized" and "own" the Earth, but it is always fruitless.All in all, I loved it and think it a very worthy book of anyone's time.
Review by meggyweg
16/06/2015
Although this book was often beautifully written, with similes I'm envious of, it wasn't really to my taste. Perhaps it's just because I am not accustomed to African literature, but I found the blend of fact and fantasy here to be confusing and annoying, and I guessed the boy's true identity way ahead of time. I don't believe this was a bad book, it just wasn't my thing.