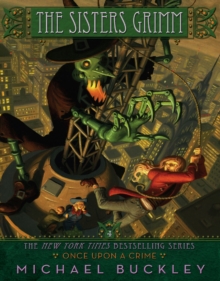 Once Upon a Crime
Paperback
Description
In the fourth book, Sabrina and Daphne's adventures continue in their hometown of New York City as they bring Puck to Faerie to cure the wounds sustained in Book Three.
With the help of Granny Relda, Mr. Canis and Sheriff Hamstead, the girls must figure out who killed Puck's father, King Oberon, while navigating the warring factions of Everafters that make their homes in every neighbourhood of New York City, including the pirates of Wall Street, the Yahoos of the Lower East Side and many more.
Wherever they go, they learn something new about their mother, who wasn't the sweet, average lady they remember.
Their mother's name and the girls' street smarts give them an advantage over their older friends and the Sisters Grimm really come into their own as detectives.
If only Sabrina can embrace her Grimm inheritance and give up her dream of being normal.
Information
Format: Paperback
Pages: 304 pages, cl1 / bw10 / tt11 illustrations, cl / bw / tt photographs
Publisher: Abrams
Publication Date: 01/04/2008
Category: Crime & mystery fiction (Children's/YA)
ISBN: 9780810995499
Other Formats
Hardback from £6.99
EPUB from £6.68
Free Home Delivery
on all orders
Pick up orders
from local bookshops
Reviews
Showing 1 - 5 of 7 reviews.
Previous | Next
Review by cmbohn
16/06/2015
Sabrina and Daphne are heading back to New York City. Their friend Puck was injured in the last book and his only hope is to find the Faerie community hiding in the city. But it turns out that Sabrina is about to discover a whole new side to the city she loves. And that's not the only surprise - she's about to discover that most of what she knew about her mother was wrong. Sabrina isn't sure what to think now, but she's had about enough of Fairy Tale. But before her life can get back to normal and she can save her parents, she has to find out who killed Oberon.
Review by alice443
16/06/2015
Like the others in this series this is enjoyable. The series is set in a town where fairy tale creatures and "real people" coexist although in this tale features a trip to New York City where reality and fairy tale and reality also mingle. The Grimm sisters solve a mystery and look for clues to find their missing parents.
Review by prkcs
16/06/2015
When the fairy-tale detectives rush to New York City hoping to find an Everafter who can cure Puck, they trigger a chain of events that includes a murder mystery, and learn many new things about their mother who, along with their father, is still in an enchanted sleep.
Review by deepikasd
16/06/2015
Due to Puck's injuries from the Jabberwocky, the family decides he needs to go to Faerie. Imaging their surprise when they discover the "city"/haven is in New York City. Sabrina is shocked at this, realizing that Everafters are everywhere. They make their way into the Faerie "kingdom" and meet Puck's family, finding out that Puck is the heir to the throne. The sisters also learn that their mild, mannered mom is nothing of what she seemed to them. She has been entwined in the affairs of the Everafters and was regarded in high esteem. But then Puck's father is murdered and the family is on the case. Sabrina makes her plans known that she is going to retire after this case and have nothing more to do with the Grimm family's legacy. She wants Daphne to join her, but Daphne tells her that she doesn't want any part of Sabrina's plans. So now Sabrina must figure a way to get Daphne to join her in quitting the Grimm family while helping find a murderer.<br>So by now most readers may want to hit Sabrina over the head. She hates the Everafters just like they hate her and shows a sort of racism against them; though this is mostly due to her not trusting anyone, especially since one of them could work for the Scarlet Hand. She hates the whole fairy-tale detective aspect of the Grimm family and wants out, but is seen almost forcing her sister to quit as well. Personally I think it all stems from feeling like she is not in control of things. But finally Daphne is able to speak out for herself. This is a story where Sabrina realizes that being a Grimm is not all about being a fairy-detective, but about helping people. She also learns more about her mother and realizes how much of a person her mother is. She also has to deal with her feelings about Puck. Especially when she learns that he might not come back after all.
Review by Melissa.mhan3754
16/06/2015
Once Upon A Crime by Michael Buckley is another book in the Sisters Grimm series. This adventure is about the Grimms and their friends who are trying to get Puck to Farie, but run into a mystery. When they go visit Puck's family, they find out that someone poisoned the king who was Puck's father. Now it is the time for the detectives to come out and figure out this mystery. With the more clues and information they collect the closer they are to figure out who the murderer is. Theya are sure it is Cobweb until they capture him. The Grimms get into trouble and many adventures where they almost get killed! In the end Moth is the one who poisoned the king and almost kills Sabrina. This book had a kind of twist to its story. There were many adventures and it was tricky to find out who was the murderer. I really like Daphne and how she always says it is their duty to be detectives and that they were Grimms. It is also kind of funny how she makes up her own workds like jerkazoid and then uses them on the other people. I am also glad that Veronica's speech that Sabrina read made the Everafters happy and I hope they will change their ways and how things work in the following books. I also like Puck and how great he is at saving people. It would have been sad if he didn't stay with the Grimms because he was kind of like part of their family.
Also in the The Sisters Grimm series | View all