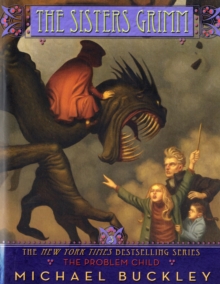 The Sisters Grimm : The Problem Child Book 3
Paperback
Description
The sisters Grimm come face to face with their parents' kidnappers, and are stunned when one of them turns out to be the world's most famous fairy-tale character (hint, she wears red) and the other an unstoppable killing-machine known as the Jabberwocky.
Without the presumed-dead Mr. Canis (aka The Big Bad Wolf) fighting at their side, the girls have little hope that they'll ever be reunited with their mother and father.
That is until their long-lost Uncle Jake returns home with stories of a weapon that can kill the Jabberwocky, but one so powerful that it had to be shattered into many pieces.Now the girls must find the pieces so the deadly weapon can be reforged.
But to get the deed done they'll have to go head-to-head with the Wizard of Oz, the (not so) Little Mermaid, and even the horrible witch Baba Yaga.
To complicate matters, Sabrina begins to struggle with an addiction to magic and finds herself unravelling a real-life family mystery the origins of which have caused suffering for generations of Grimm's.
Information
Format: Paperback
Pages: 320 pages, cl1 / bw10 / tt11 illustrations, cl / bw / tt photographs
Publisher: Abrams
Publication Date: 01/09/2007
Category: Crime & mystery fiction (Children's/YA)
ISBN: 9780810993594
Free Home Delivery
on all orders
Pick up orders
from local bookshops
Reviews
Showing 1 - 5 of 8 reviews.
Previous | Next
Review by virginiahomeschooler
16/06/2015
Darker than the first two books in the Sister's Grimm, The Problem Child is really terrific. I wouldn't suggest it for the very young, but it's a great read for teens and adults. Exciting and well-written. I can't wait to see what the Grimm girls are up to in book four.
Review by kconcannon
16/06/2015
Still great! But, Sabrina is starting to drive me nuts. Would she just spank her inner child, trust her grandmother and I dunno... be nicer to her sister? Good stuff, though.
Review by drebbles
16/06/2015
Eleven year old Sabrina Grimm desperately wants to find her kidnapped parents. She has a chance to rescue them but is foiled by a deeply disturbed Little Red Riding Hood and her pet Jabberwocky. Sabrina finds out that the only thing that can defeat the Jabberwocky is the vorpal blade, which is in three pieces and in three different locations. Sabrina, with the help of her Uncle Jake, sets out to find all three pieces and is willing to do anything, even magic, to get the pieces. But Sabrina finds out that while magic is easier, there is always a price for using it. I've enjoyed all the books in this series and "the Problem Child" is no exception. Michael Buckley does a great job playing with the fairy tale mythology and he'll surprise readers with how he treats certain characters such as Little Red Riding Hood, The Big Bad Wolf, Snow White, the Blue Fairy, and Prince Charming. Little Red Riding Hood is not the only problem child, Sabrina is so angry at the kidnapping of her parents that she will do anything to get them back, even if it means placing her family in danger. She is headstrong and flawed - a very believable character. Uncle Jake is in many ways a grown up version of Sabrina, although it's harder to forgive those kind of flaws in an adult who should know better. The fantasy elements are wonderful, although Ferryport is so fraught with danger I wouldn't want to live there! "The Problem Child" offers fantasy and fun for young and old alike.
Review by booksandbosox
16/06/2015
Wow this series keeps getting darker. Almost to the point where I question whether kids should be reading them. However, I'm enjoying the darkness. Red Riding Hood and the Jabberwocky were great. I'm starting to wonder, though, if they're going to run out of fairy tale characters to incorporate in the stories. It already seems like they're stretching a little bit (the Blue Fairy from Pinocchio? Really?) Regardless, I'm enjoying the series and eager to read the rest and find out the whole story behind the Scarlet Hand.
Review by krau0098
16/06/2015
This is the third book in the Sisters Grimm series by Buckley. It was a decent book in this series. If you liked the first two books you should enjoy this one as well. I listened to this on audiobook and the audiobook was decently done; the narrator isn't my favorite but he distinguishes between characters voices well.Sabrina and Daphne are on the hunt for Little Red Riding Hood, who they believe is heading the Scarlet Hand, which is the group who stole their parents. Little Red Riding Hood has a kitty (the evil and dangerous Jabberwocky) that is causing trouble though. Sabrina and Daphne also discover they have an uncle who is full of magical surprises; their uncle is more than willing to help but will he cause more trouble than he's worth?You learn more about the Grimm's past in this book than in any other book in this series so far. There was also more interesting magic in this book than in any of the previous books.Sabrina's uncle is an interesting, but mostly obnoxious, addition to the characters. Her uncle acts like a child throughout the whole book, sulking, not listening, and throwing fits. I didn't enjoy him all that much as a character. In fact a lot of the adults in this book act like children; making for unbelievable characters that were hard for me to engage with. I hate it when kids book have adults who act like children; kids can understand more complexity than we give them credit for and adults should act like the role models they are in these books...or at least act in a more complex way that assume kids can understand some complexity.Sabrina continues to be headstrong and bitter; I keep hoping she will grow as a character but she makes the same mistakes in every book and shows no sign of ever changing. To be honest I am quite sick of her and don't really enjoy reading about her. Daphne was busy giving Sabrina the silent treatment for large portions of the book. Little Red Riding Hood was as obnoxious as Sabrina and made for a luke-warm bad guy.I did enjoy the mystery and finding out some background on the Grimms. I also enjoyed the nifty magical devices used throughout and I enjoyed the way the story is broadening and not just focused on one little mystery. This story wraps up much nicer than the second book; no horrible cliffhangers../although things are definitely set up to start a new storyline for the next book.Overall this was an okay addition to the Sisters Grimm series. I enjoyed the mystery and the magical devices; I also enjoyed learning more about the Grimm's past. I do not enjoy the characters in this book; I find the majority of them to be obnoxious. Many of the adults also act like children; which is annoying to read and also doesn't give kids or adults enough credit. All in all if you have been enjoying the series you will enjoy this book. If you have been finding some of the characters annoying (mainly Sabrina) then you will continue to be annoyed. I personally am not going to read more of this series; I guess it is just not my thing.