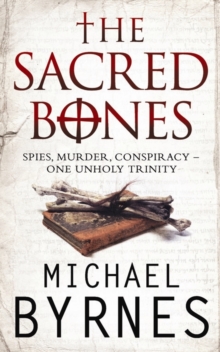 The Sacred Bones : The Page-Turning Thriller for Fans of Dan Brown
Paperback
Description
At the crossroads of Christian, Islamic, and Jewish faiths, a priceless artifact is stolen from a vault hidden beneath Jerusalem's Temple Mount.
With high stakes on sacred ground, time is running out ...The violent theft leaves thirteen Israeli soldiers and policemen dead, the Palestinians up in arms over the desecration of sacred grounds, and the tension between the two groups dangerously high.
Jerusalem is a stick of dynamite and the fuse has been lit ...Meanwhile, in Vatican city, American scientist Charlotte Hennesey and Italian anthropologist Giovanni Bersei have been secretly summoned to analyse a mysterious artefact: the bones of a two-thousand-year-old unidentified, crucified man.
Charlotte starts to wonder - could these be the bones of Jesus Christ?
With the malevolent eye of Vatican security expert Salvatore Conte watching her every move, Charlotte must work against the clock.
She knows that if the mortal remains of Christ are indeed in the burial box, there is a question to face: will the Vatican allow this information - and Charlotte - to see the light of day ...Fast-paced and intelligent, blending historical fact with persuasive fiction, The Sacred Bones is an addictively compelling thriller, perfect for fans of Dan Brown. Following a conspiracy stretching back to the days of the Templar Knights to the shifting alliances of contemporary Middle Eastern politics, The Sacred Bones calls into question many of modern religion's most deeply-held beliefs.
Information
Format: Paperback
Pages: 448 pages
Publisher: Simon & Schuster
Publication Date: 03/03/2008
ISBN: 9781847390127
Free Home Delivery
on all orders
Pick up orders
from local bookshops
Reviews
Showing 1 - 2 of 2 reviews.
Review by adpaton
16/06/2015
There is a special circle of Hell so terrible Dante did not dare write about it, and it is reserved especially for Dan Brown and all the scribblers who have climbed onto the Brown bandwagon. Discerning readers know if 'Dan Brown' or 'Da Vinci Code' is mentioned anywhere on the book or in anything promoting the book – possible exceptions might be 'If you like Dan brown, you'll hate this – don't bother reading it. Sacred Blood is actually less offensive than most as well as being slightly better written: although it is a follow up to Sacred Bones, published a few years ago, the back story is easy to pick up and the book works as a stand alone. A couple of years ago a sarcophagus containing a skeleton was found in a previously undiscovered tomb under Temple Mount: before the bones could be properly examined, they were seized in a ruthless and daring raid in which many were killed. Could these have been the bones of Jesus Christ? The indications were all there but the public would never know the truth thanks to the ungodly machinations of an ancient evil, an all-powerful international gang of immoral killers, one of the richest, most corrupt and oldest institutions on Earth – the Catholic Church. Like all the really big-shot baddies, the Catholics have a luxurious and heavily fortified hangout – theirs is in the heart of Rome and called Vatican City: it was to this sinister and secretive enclave that the stolen bones were delivered…Charlotte Hennessey, an American scientist brought into the Vatican to examine the bones, is miraculously cured of cancer when she in injected with their DNA: obviously, this was no ordinary skeleton. But now a few years have passed and the Evil Empire is quiet and Temple Mount has licked its wounds. Husky Israeli archaeologist Amit Mizrachi makes a bewildering discovery at Qumran and asks his friend Julie LeRoux, a renowned French archaeologist, to help him decipher it but before long they are running for their lives and the Qumran site has been destroyed. Then there is Aaron Cohen, an American-born ultra-Orthodox Jew who returned to Israel to raise a family and lead a covert sect called The Sons of Light: on the other hand we have the Muslim rulers of Temple Mount and the Dome of the Rock, hard-line fundamentalists, hell-bent on the rewards they will garner in Paradise for mass slaughter of the unsuspecting in cold blood. And let's not forget the Catholic Church and the treachery existing deep in the heart of the Holy See. A rollicking read with plenty of thrills, spills and romance, involving everything from the sacred gift of healing to the Arc of the Covenant: this is Dan brown lite, a book that does not take itself too seriously, and is all the better for it.
Review by Shirezu
16/06/2015
I'm a sucker for these books. I always love a blend of real history and fiction with a touch of secret conspiracies. This one fits the bill nicely. <br/><br/>With a good cast and, for once, very little romance getting in the way the book rolls smoothly along keeping me wanting to know more. The two sides of the story were well entwined with neither side getting boring before switching keeping them both fresh.<br/><br/>An enjoyable book with a little twist near the end I liked I look forward to reading the next book which is already sitting on my shelf.